Happening Now
Rail Passengers Respond to White House Budget: "What About the Jobs, Mr. President?"
March 16, 2017
Release #17-07
(Click on the image below to reach your congressional representative or Senator!)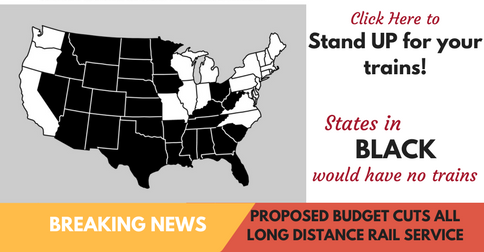 For Immediate Release (#17-07)
Contact: Xenophon Strategies – (202) 289-4001
Plan Turns Back on Rural America and Midwest: Will Eliminate Amtrak Routes to Most Rural Communities, Destroy Jobs, and Hurt Local Economies
Washington, D.C. — The National Association of Rail Passengers, the premiere national organization speaking for the nearly 40 million users of passenger trains and rail transit, denounced the budget outline released today by the Trump Administration, which slashes investment in transportation infrastructure. These cuts to Amtrak, transit, and commuter rail programs, and even air service to rural towns, would not only cost construction and manufacturing jobs, but place a disproportionate amount of pain on rural and working class communities.
"It's ironic that President Trump's first budget proposal undermines the very communities whose economic hardship and sense of isolation from the rest of the country helped propel him into office," said NARP President Jim Mathews. "These working class communities—many of them located in the Midwest and the South—were tired of being treated like 'flyover country.' But by proposing the elimination of Amtrak's long distance trains, the Trump Administration does them one worse, cutting a vital service that connects these small town economies to the rest of the U.S. These hard working, small town Americans don't have airports or Uber to turn to; they depend on these trains."
"What's more, these proposed cuts come as President Trump continues to promise that our tax dollars will be invested in rebuilding America's infrastructure," continued Mathews. "Instead, we have seen an all-out assault on any project—public and private—that would advance passenger rail. These cuts and delays are costing the U.S. thousands of good-paying construction and manufacturing jobs in America's heartland at this very moment."
Mathews was referring to the decision by Transportation Secretary Elaine Chao to indefinitely suspend a grant that would allow California to proceed with a commuter rail electrification project. Caltrain, the agency overseeing the project, estimates the project would create 9,600 total direct and indirect jobs. The delay also threatens the construction of a new railcar assembly plant planned for Salt Lake City, which would generate sustainable, family-wage jobs for 550 employees.
The White House budget would lead to a nightmare scenario for people who depend on passenger rail, transit, commuter rail, and even regional air service in the United States, from Wall Street to Main Street. The proposal cuts $2.4 billion from transportation, a 13 percent reduction of last year's funding, and includes:
Elimination of all federal funding for Amtrak's national network trains, which provides the only national network service to 23 states, and the only nearby Amtrak service for 144.6 million Americans;
$499 million from the TIGER grant program, a highly successful program that invests in passenger rail and transit projects of national significance;
Elimination of $2.3 billion for the Federal Transit Administration's "New Starts" Capital Investment Program, which is crucial to launching new transit, commuter rail, and light-rail projects.
Long distance rail routes open up enormous economic development opportunities, which the Administration's proposal ignores or casts aside. The plan threatens the following long distances routes:
Gulf Coast Restoration - In development
Silver Star - Daily service
Cardinal - 3 trains/week
Silver Meteor - Daily service
Empire Builder - Daily service
Capitol Limited - Daily service
California Zephyr - Daily service
Southwest Chief - Daily service
City of New Orleans - Daily service
Texas Eagle - Daily service
Sunset Limited - 3 trains/week
Coast Starlight - Daily service
Lake Shore Limited - Daily service
Palmetto - Daily service
Crescent - Daily service
Auto Train - Daily service
And, at a minimum, the proposed White House elimination of long distance routes would result in the following 220 towns and cities losing all Amtrak service:
---
Albuquerque, NM

Alderson, WV

Alliance, OH

Alpine, TX

Anniston, AL

Arcadia, MO

Arkadelphia, AR

Ashland, KY

Atlanta, GA

Austin, TX

Barstow, CA

Beaumont, TX

Benson, AZ

Bingen, WA

Birmingham, AL

Brookhaven, MS

Bryan, OH

Burlington, IA

Charleston, SC

Charleston, WV

Chemult, OR

Chico, CA

Cincinnati, OH

Cleburne, TX

Clemson, SC

Cleveland, OH

Clifton Forge, VA

Colfax, CA

Columbia, SC

Columbus, WI

Connellsville, PA

Creston, IA

Cumberland, MD

Cut Bank, MT

Dallas, TX

Danville, VA

Deerfield Beach, FL

Del Rio, TX

Deland, FL

Delray Beach, FL

Deming, NM

Denver, CO

Detroit Lakes, MN

Devils Lake, ND

Dillon, SC

Dodge City, KS

Dunsmuir, CA

East Glacier Park, MT

El Paso, TX

Elkhart, IN

Elko, NV

Elyria, OH

Ephrata, WA

Erie, PA

Essex, MT

Fargo, ND

Fayetteville, NC

Flagstaff, AZ

Florence, SC

Fort Lauderdale, FL

Fort Madison, IA

Fort Morgan, CO

Framingham, MA

Fulton, KY

Gainesville, GA

Gallup, NM

Garden City, KS

Gastonia, NC

Glasgow, MT

Glenwood Springs, CO

Granby, CO

Grand Forks, ND

Grand Junction, CO

Green River, UT

Greenville, SC

Greenwood, MS

Hamlet, NC

Hammond, LA

Harpers Ferry, WV

Hastings, NE

Hattiesburg, MS

Havre, MT

Hazlehurst, MS

Helper, UT

Hinton, WV

Holdrege, NE

Hollywood, FL

Hope, AR

Houston, TX

Huntington, WV

Hutchinson, KS

Jackson, MS

Jacksonville, FL

Jesup, GA

Kingman, AZ

Kingstree, SC

Kissimmee, FL

Klamath Falls, OR

La Crosse, WI

La Junta, CO

La Plata, MO

Lafayette, LA

Lake Charles, LA

Lakeland, FL

Lamar, CO

Lamy, NM

Las Vegas, NM

Laurel, MS

Lawrence, KS

Libby, MT

Lincoln, NE

Little Rock, AR

Longview, TX

Lordsburg, NM

Lorton, VA

Malta, MT

Malvern, AR

Maricopa, AZ

Marshall, TX

Martinsburg, WV

Maysville, KY

McComb, MS

McCook, NE

McGregor, TX

Memphis, TN

Meridian, MS

Miami, FL

Mineola, TX

Minot, ND

Montgomery, WV

Mount Pleasant, IA

Needles, CA

New Iberia, LA

New Orleans, LA

Newbern-Dyersburg, TN

Newton, KS

Okeechobee, FL

Omaha, NE

Ontario, CA

Orlando, FL

Osceola, IA

Ottumwa, IA

Palatka, FL

Palm Springs, CA

Pasco, WA

Paso Robles, CA

Picayune, MS

Pittsfield, MA

Pomona, CA

Poplar Bluff, MO

Portage, WI

Prince, WV

Provo, UT

Raton, NM

Red Wing, MN

Redding, CA

Reno, NV

Riverside, CA

Rockville, MD

Rugby, ND

Salinas, CA

Salt Lake City, UT

San Antonio, TX

San Bernardino, CA

San Marcos, TX

Sanderson, TX

Sandpoint, ID

Sandusky, OH

Sanford, FL

Savannah, GA

Schriever, LA

Sebring, FL

Shelby, MT

Slidell, LA

South Bend, IN

South Portsmouth, KY

Southern Pines, NC

Spartanburg, SC

Spokane, WA

St. Cloud, MN

St. Paul-Minneapolis, MN

Stanley, ND

Staples, MN

Staunton, VA

Tampa, FL

Taylor, TX

Temple, TX

Texarkana, AR

Thurmond, WV

Toccoa, GA

Toledo, OH

Tomah, WI

Topeka, KS

Trinidad, CO

Truckee, CA

Tucson, AZ

Tuscaloosa, AL

Victorville, CA

Walnut Ridge, AR

Waterloo, IN

Wenatchee, WA

West Glacier, MT

West Palm Beach, FL

White Sulphur Springs, WV

Whitefish, MT

Williams Jct., AZ

Williston, ND

Winnemucca, NV

Winona, MN

Winslow, AZ

Winter Haven, FL

Winter Park, FL

Winter Park-Fraser, CO

Wisconsin Dells, WI

Wishram, WA

Wolf Point, MT

Worcester, MA

Yazoo City, MS

Yemassee, SC

Yuma, AZ
"When the President proposed a $1 trillion infrastructure proposal, voters expected that would mean more funding for projects like long-distance rail and new subway and light rail construction. These are the kinds of public works that spur private investment, create good jobs, and lead to economic revitalization," said Mathews. "This budget does exactly the opposite."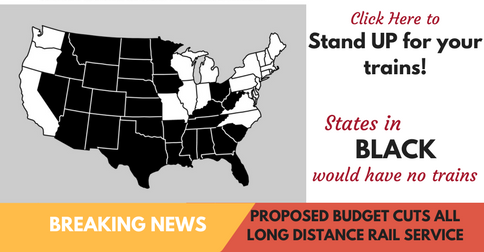 About the National Association of Railroad Passengers
NARP is the only national organization speaking for the nearly 40 million users of passenger trains and rail transit. We have worked since 1967 to expand the quality and quantity of passenger rail in the U.S. Our mission is to work towards a modern, customer-focused national passenger train network that provides a travel choice Americans want. Our work is supported by more than 28,000 individual members nationwide.
###
"It is an honor to be recognized by the Rail Passengers Association for my efforts to strengthen and expand America's passenger rail. Golden spikes were once used by railroads to mark the completion of important rail projects, so I am truly grateful to receive the Golden Spike Award as a way to mark the end of a career that I've spent fighting to invest in our country's rail system. As Chair of the Transportation and Infrastructure Committee, it has been my priority to bolster funding for Amtrak, increase and expand routes, look to the future by supporting high-speed projects, and improve safety, culminating in $66 billion in new funding in the Bipartisan infrastructure Law."
Representative Peter DeFazio (OR-04)
March 30, 2022, on receiving the Association's Golden Spike Award for his years of dedication and commitment to passenger rail.