Happening Now
Hotline #1,168
May 22, 2020
Rail news for the week ending May 22nd
D.C. Office Closed, Rail Passengers Staff Working Remotely.
Click here for more information on how this affects your membership.
-
The May Passengers Voice Newsletter is now available.
Click here to read the digital version.
---
Join Rail Passengers May 27th for a National Passenger Rail Briefing with Special Guest Rep. Seth Moulton of Massachusetts
Join us May 27th at 2pm Eastern, when Rail Passengers senior staff will share the latest passenger rail policies in the U.S. Congress, and hear from Congressman Moulton about his plan to get the U.S. economy back on track by investing $205 billion in passenger rail over five years.
Rail Passengers is hosting a webinar looking at the ability of rail and transit service providers to weather this storm, and what a return to normal will look like. We're pleased to announce we will be joined by Rep. Moulton from Massachusetts, who will talk about his visionary plan for building a 21st century transportation system for the benefit of all Americans.
Other topics will include:
Current levels of service across the Amtrak network, and what it will take to get passengers safely traveling again;

An overview of the first four phases of coronavirus legislation, and an analysis of the HEROES Act unveiled by the House Democrats this month, and its prospects in the Senate;

Strategies for ensuring passenger rail projects are included in any infrastructure packages.
We'll also field your questions, so we hope you'll join us! Please RSVP if you plan on attending.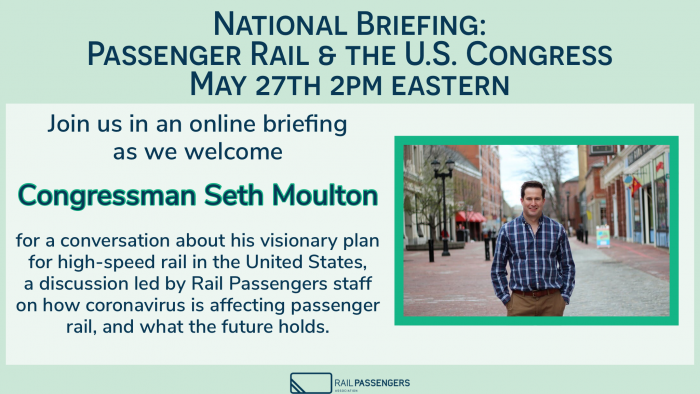 ---
Congressman Moulton Unveils $205 Billion National High-Performance Rail Plan
Representative Seth Moulton (D-MA) released a visionary new plan for high-speed rail in the U.S., investing $205 billion over five years to close the transportation technology gap that has developed between the U.S. and other developed economies while creating 2.6 million new American jobs in the process.
"Developing high-speed rail is about more than just fast trains; it is about creating more choices for Americans on how they travel and where they live, work and do business," said Rep. Moulton. "This plan will build a national high-speed rail system by investing in high-speed rail corridors, expanding how we measure transportation data to show the true cost of the subsidies we give to air and road travel, and updating our transportation laws for the 21st century. Read more about my plan and the benefits it would achieve here."
After being given the opportunity to review the plan in advance of its publication, Rail Passengers has issued an enthusiastic endorsement of Rep. Moulton's vision.
"Here, finally, is a plan for passenger rail in America that rivals the ambition of President Eisenhower's vision for highways in the 1950s," said Jim Mathews, President and CEO of the Rail Passengers Association. "Congressman Moulton has put forth a blueprint for a national passenger rail network that stops the long, slow decline of our country's transportation infrastructure, bringing economic growth and opportunity outside of a handful of "superstar cities" to the rest of America's cities and towns. For too long passengers have had to fight for scraps of funding on the periphery of the transportation policy debate; Moulton's national high-speed rail plan moves trains to the center of that debate with an ambition not seen in U.S. infrastructure in generations."
While $41 billion per year towards high performance rail is certainly eye-catching, Moulton's proposal includes more than just funding. The legislative outline includes a number of innovative policy proposals for planning, project delivery, and financing—many of which mirror policies outlined by Rail Passengers in our Blueprint for the surface transportation reauthorization. The legislation includes:
A program to incentivize right of way acquisition from host railroads through tax credits;

Using transit oriented development grants to encourage communities to allow high-speed rail corridors to be built in their communities;

Incorporating a consideration of the economic benefits of rail service into project evaluation; and

Standardizing and streamlining bureaucratic oversight by the FRA to speed project delivery.
You can read about the rest of the legislative specifics here.
Of course, while the policies are important, advocates will need to communicate what the legislation will do if it's enacted. In a profile of the plan, a reporter from WIRED Magazine imagined what a $205 billion investment in passenger rail would look like:
Enough with the money stuff and picture this: Dallas to Houston without the 3.5-hour car ride. Chicago to Atlanta, with fewer weather delays and stops in Indianapolis and Chattanooga along the way. Portland to Vancouver at 220 mph. LAX to SFO—the busiest domestic airline route in the US—in under three hours without actually entering the cursed departure or arrival halls. Less pollution (these rail lines would be electric), and fewer deaths (no one has died on the Japanese Shinkansen high-speed rail system in its 55-year history, compared with 36,120 on American roads last year alone). A wide, cushy seat with plenty of legroom, the sun shining through the windows.
---
Take Action Now: YOUR Comment Needed On New Amtrak Rules
About six weeks ago, the Federal Railroad Administration proposed new rules for passenger rail based on a single core proposition – that America's passengers have the right to be on time. On April 30, I testified before an FRA hearing to let them know that you agree.
In that same hearing, the freight railroads sent a clear message that despite the most recent string of defeats in the courts, they are lawyering up again. This time, their strategy is to declare that Amtrak's schedules are unrealistic nearly across the board and that the FRA is making a legal mistake in building its rule around them. After their opening statement, they put up a parade of freight executives to talk about just how hard it is to run an on-time railroad.
Their strategy is clear: get FRA to require Amtrak to lengthen schedules even more. The end goal would make Amtrak so trip-time uncompetitive that passenger rail dies in the United States.
I need YOU to help us stop this.
The public has until June 1 to comment on FRA's proposals...and to fight back against the idea that freights need even more time to carry Amtrak's trains. I'm asking you today to add your voice to the public comment docket by visiting this link:
https://www.regulations.gov/docket?D=FRA-2019-0069
When you write your comment, you should stress the following:
I support FRA's proposed Customer On-Time Performance (Customer OTP) standard because it is passenger-focused, unambiguous, straightforward and easy to understand. Schedule recovery time should be redistributed throughout the route to ensure that host railroads can reasonably meet the standard, and not simply lengthened.

I encourage FRA to consider the enhancements Rail Passengers proposed in its formal comments on the rule on April 22. These enhancements include RPA-suggested metrics that evaluate the customer experience without relying on surveys, that incorporate concerns of elderly and disabled travelers, and that broaden and strengthen the assessment of public benefits from each route.
Before commenting, please be sure your comment is constructive, fact-based, and reflects how the standards in the rule will affect you as a passenger.
These rules will address not just on-time performance but many other areas which I know are important to you. The rules will measure not just timeliness but things like schedules, the quality of your on-board experience and even critical areas of concern like food service.
Don't let this opportunity to be heard go to waste. Use the link to add your comments BEFORE JUNE 1.
Jim Mathews
President & CEO
---
White House Nominations and Senate Vote Could Dramatically Change Makeup of Amtrak's Board of Directors
With two new nominees to the Amtrak Board of Directors submitted by the White House and a vote by the Senate Commerce Committee to advance three prior nominees, this week could mark the beginning of a dramatic remake of the railroad's corporate governance.
White House Nominates Two Outstanding Candidates to Amtrak Board
The Rail Passengers Association applauded the May 18th announcement by the Trump Administration to nominate Chris Koos of Illinois and Sarah E. Feinberg of West Virginia to be Directors on the Amtrak Board of Directors.
"Ms. Feinberg and Mayor Koos not only have excellent transportation credentials, they have a well-articulated and compelling vision of how Amtrak's passenger rail network can better serve Americans from all parts of the country and all walks of life," said Rail Passengers President Jim Mathews. "We look forward to working with Congress to speed their confirmation process."
Mayor Koos is currently the Mayor of Normal, Illinois, where he has served as mayor since 2003. He is a nationally recognized voice for how transit and intercity rail can benefit small town America and was recognized by Rail Passengers with the Ross Capon Citizens Advocacy Award in 2019.
Ms. Feinberg previously served as Administrator of the Federal Railroad Administration (FRA) and Chief of Staff to the former Secretary of Transportation. Rail Passengers endorsed Feinberg's nomination to head the FRA in 2015, citing the ability she demonstrated as acting-Administrator in a challenging regulatory and safety oversight environment, her effective coordination of the FRA response to two deadly accidents, and her responsive and transparent management of the contentious debate over Positive Train Control.
The nominees will now advance to the U.S. Senate for confirmation.
Previous Nominees Resubmitted, Advance
At a hearing on May 20, three Trump Administration nominees to the Amtrak Board were advanced in three party-line votes, sending the controversial figures to the full Senate for final confirmation.
Joseph Gruters, Lynn Westmoreland and Rick Dearborn were advanced by three 14 to 12 votes, with Senators voting along party lines. The committee endorsement advanced over the objection of Ranking Member Maria Cantwell of Washington (D).
"We also have… three nominees to the Amtrak Board," said Senator Cantwell. "These nominees, in my opinion, are controversial and have not appeared before this committee in the current Congress. Further, they have been on committee markups multiple times only to advance on party-line votes. I hope that we can continue to work through these issues and questions on a more bipartisan basis."
Rail Passengers has expressed similar concerns over the pattern on display in these nominations. Our Association initially took a wait-and-see approach when the Trump Administration nominated former Congressman Lynn Westmoreland in October of 2017, who voted in 2009 and again in 2015 to end all funding to Amtrak. However, during his confirmation hearings, Westmoreland said he now understood the importance of government funding to Amtrak.
That optimism faded when the Trump Administration nominated Rick Dearborn, formerly of the Heritage Foundation, an organization that has consistently called for the elimination of Amtrak. The pattern of repeated nominations of candidates with a history of anti-Amtrak votes and sentiments to the Amtrak board eventually forced Rail Passengers to stand up and vocally oppose Senate confirmation of some of the nominees.
In what is perhaps a positive sign, former Congressman Todd Rokita—the Amtrak Board nominee with the highest number of votes looking to slash and eliminate funding to Amtrak—has yet to be resubmitted.
In the interest of giving all the nominees a fair hearing, Rail Passengers has reached out to Westmoreland, Gruters and Dearborn, inviting them to engage in a conversation about their vision for the future of Amtrak. We expect to speak with Mr. Westmoreland early next week, but have yet to hear back from Gruters or Dearborn.
The nominees will now go to the full Senate for final confirmation. Previously, these nominees have been held up by Rail Passengers' 2019 Golden Spike-winner Senator Jerry Moran (R-KS), a move protesting Amtrak's 2018 decision to terminate the Southwest Chief (which Rail Passengers successfully opposed). With Amtrak's recent recommitment to the Southwest Chief, it is unclear how the three nominees will fare in a Senate vote.
Coronavirus Hits Amtrak's April Results
Amtrak's first look at results for April are as dismal as you might expect, showing the painful progress of the coronavirus restrictions in decimating ridership and train performance and underscoring the need for advocates to keep fighting on behalf of our Nation's railroad.
A little more than 120,000 people rode Amtrak trains in all of April, compared with 2.7 million a year earlier. Amtrak's remaining Northeast Corridor regional operations carried just under 19,000 riders -- 97.5% fewer than in April of 2019 -- and that was the highest ridership total of any reported Amtrak service. The San Joaquins came in second at 11,650, an 87% drop-off, and the Empire Builder's 5,530 passengers put it in third place.
Amtrak posts its monthly results here, with a lag time of about six weeks.
Overall, the Northeast Corridor was down a little more than 98%, the state corridors were off just under 96% and the National Network's essential-service stalwarts were down a collective 86.8%.
Year to date ridership is down only 21% and revenues are off 19% but as the crisis continues the company is likely to fall further behind.
Still, the year to date numbers are a testament to the incredibly strong performance Amtrak was experiencing in the weeks and months leading up to the coronavirus outbreak and an indicator of the potential that may exist for recovery.
"Even in this terrible period, Amtrak proved its worth as an 'essential service' to hundreds of communities nationwide," said Rail Passengers President and CEO Jim Mathews. "As Congress considers new rounds of stimulus and support funding, it's important to recognize Amtrak's continuing contribution to economic health in communities large and small all across America. Now is the time to maintain these investments, not to pare back."
Amtrak Keeps An Eye On Ridership To Consider Return To Traditional Dining In The West
Continued low ridership and coronavirus restrictions means Amtrak will extend its use of the prepackaged Contemporary Dining menu on the Western long-distance trains for at least another month, Long Distance VP Larry Chestler told Rail Passengers today.
Although Amtrak is beginning to see some early signs of recovery on many routes, for both safety and demand reasons management will wait to restore the traditional dining model but plans to re-examine the situation by the end of June to see what might be possible and prudent.
While Amtrak has seen breathtaking declines in ridership on all of the trains it continues to run, declines have been lower in the long-distance area than on other trains. Cheslter said that there have been some encouraging upticks in bookings that may signal higher demand is coming.
"Whether that means there's more demand for summer it's too soon to say," Chestler said. "What's happening in terms of customers who are coming back from the bottom of the bottom" -- a low point from mid-April to early May during which Amtrak carried around 3,000 travelers systemwide per day -- "things have been ramping up steadily."
He cautioned that these are all still deeply depressed numbers, but Amtrak is "double where we were at the bottom of the bottom" and this has been true "more in the long-distance [routes] than in other places."
In some instances, passengers are using long-distance trains in place of corridor trains that aren't running. For example, the suspension of the Hiawatha sent more passengers on to the Empire Builder between Chicago and Milwaukee.
Beginning June 1, Amtrak is going to start slowly adding in more capacity across the National Network, Chestler said. "We reduced the consists in May to a kind of quasi-minimum" and there was some discussion that perhaps they should "just carry that May footprint forward." But management decided to go ahead with restoring some capacity and that turned out to be a good thing: "had we reduced to the May levels we would have had a number of trains where we would have been essentially sold out already" in coach, Chestler said.
Selling out in this instance means bumping up against the 50% limit Amtrak has set for its seat inventory in order to maintain safe distances for each passenger.
"On the Chief and the Zephyr and the Builder there's more sleepers [and] typically one more coach," he said, and "we've balanced the use of baggage coaches and other kinds of cars to put an appropriate amount of capacity" in place "to capture demand signals from customers."
Chestler wanted to avoid creating a self-fulfilling situation in which reduced capacity depresses the return of demand because the seats aren't available. He noted that some of the more encouraging signs for bookings are coming from the Coast Starlight and the Southwest Chief, although the Zephyr and Builder also are beginning to show signs of improvement.
"You could probably characterize" the early hopeful signs as coming from "the four big premier" routes, he added.
Amtrak and PennDOT to Restore Pennsylvanian and Keystone Service
In coordination with state partners at the Pennsylvania Department of Transportation, beginning June 1, Amtrak is fully restoring Pennsylvanian service (New York – Philadelphia – Pittsburgh) frequencies and Keystone Service (New York – Philadelphia – Harrisburg) trains will begin operating again on a modified schedule in response to anticipated increased demand.
Modified Keystone Service will include nine weekday roundtrips and six roundtrips on weekends. Keystone Service will temporarily operate between Philadelphia and Harrisburg only, with no service between New York and Philadelphia. Pennsylvanian service will include one daily roundtrip operating normally between New York, Philadelphia and Pittsburgh. All trains will be reserved to allow for physical distancing.
Amtrak is also restoring Acela service on the Northeast Corridor on a modified schedule beginning June 1. Modified service will include the restoration of three weekday Acela roundtrips. Northeast Regional frequencies will also be increased from eight to 10 roundtrips.
Amtrak continues to take extra steps to disinfect stations and trains. Additional measures include the following:
Limiting bookings: To help maintain CDC recommendations for physical distancing onboard trains, Amtrak has temporarily reduced Coach, Business, and Acela First Class sales to 50% capacity on reserved services.

Facial coverings: As part of Amtrak's ongoing commitment to protect customers and front-line employees in response to the coronavirus pandemic, Amtrak is requiring that all customers in stations, on trains and thruway buses wear facial coverings. The Centers for Disease Control and Prevention (CDC) recommends the use of simple cloth facial coverings or masks to slow the spread of the virus and prevent transmission.

Enhanced cleaning: Amtrak has amplified the cleaning of trains by spraying a disinfectant focusing on highly touched surfaces.

Cashless transactions: As an added measure to ensure the health and safety of our customers and employees, we are temporarily accepting cashless payments only in stations and on trains.

Physical distancing: Signage has been displayed at several of our busiest stations to indicate safe distances in high customer traffic areas such as waiting rooms, in front ticket offices, at the base/top of escalators, lounge entrances, etc. In addition, clear protective barriers have been retrofitted at stations where there are no current glass barriers.

Upon arrival: When the train is approaching a destination, conductors will make announcements regarding where and when customers can disembark to minimize crowding at the door.
Tickets are currently for sale and can be found, along with current schedules on Amtrak.com and through the Amtrak app. Visit Amtrak.com for more information about how Amtrak is maintaining a safe environment.
CARES Act Funding Released To Agencies
Paired with a phased plan to restore service, DC Metro has recieved $876M through the CARES act. Of this funding, $44.1 mil will be dedicated to local transit providers in Prince George and Montgomery Counties. Trains are currently running every 15-20 mins with a 9pm station curfew and multiple stations closed.
Approved by the Metropolitan Transportation Convention in April, Bay Area Rapid Transit is receiving $700M. Totalling $1.3B in funding to be administered, BART is hoping to offset the equivalent of lost wages as ridership average 6% in the region. These emergency funds will help stabilize their budget and offset forecasted losses as many Bay Area counties slowly enter Phase 2 of reopening. BART will continue to work closely with MTC as more funding is released.
Dallas Area Rapid Transit has been rewarded $229M to support the continuation of streetcar, trinity railway express, light rail, bus, and transit police services. Despite the budget shortfall, DART officials are planning to keep as close to their 20 year financial plan as possible. While the CARES funding is essential to the agency, they are also taking strategic steps to reduce Administrative costs as well.
Marshall, Texas, 14 Other Stations Will Get Their Agents Back
Facing public pressure and a Congressional mandate, Amtrak is restoring station agents at 15 stations across the Network, including Marshall, Tex., which was the focus of strong public efforts led by longtime advocates Christina Anderson and her husband Judge Richard Anderson.
"During the sadness and difficulty of the ongoing pandemic and with continued gratitude for the brave service of our frontline workers and all working together to battle the current health crisis, we're very grateful and honored to be able to share some welcomed and happy news with our community and region," Christina Anderson said.
She is a member of the Marshall Depot Board.
In addition to Marshall, Amtrak confirmed to Rail Passengers today that station agents will return to Tuscaloosa, AL, Texarkana, AR, Maricopa, AZ, Fort Madison, IA, Ottumwa, IA, Garden City, KS, Topeka, KS, Hammond, LA, Meridian, MS, Havre, MT, Shelby, MT, Lamy, NM, Cincinnati, OH, Charleston, WV.
"These uniformed workers will be trained to assist our customers with booking and boarding trains, including helping with unaccompanied minors, carry-on baggage and providing information on the status of arriving and departing services," Amtrak said. "These employees will be scheduled to meet customers for all trains."
Scheduled arrival times in Garden City, Topeka and Cincinnati mean the agents won't handle unaccompanied minors at those stations.
"This is just more proof for our members and the public that advocacy works," said Jim Mathews, Rail Passengers CEO and President. "Sometimes it's slower than we'd like, and we don't win all the battles, but just like the Gulf Coast restoration earlier this year, the fight over station agents is a great example of what can happen when advocates link arms and work together to get things done."
Mathews also extended special recognition to the Andersons, noting that "Christina and Judge Anderson have been fighting the good fight for the Marshall Depot and extended service east through to Mississippi for many years and just plain don't give up. They have inspired many others to keep the pressure on, and this is how we can make more gains for passenger rail in this country."
Amtrak said it will start working to fill the station agent positions internally at first, and will then go out to the public to make the jobs available.
Congresswoman Lowey Announces Funding For Portal North Bridge, Penn Station
In a press release yesterday, New York Congresswoman Nita Lowey (D-NY17) announced $139 million in Federal Transit Administration State of Good Repair Grants for both New Jersey Transit and New York's MTA. "Together, this funding to support Portal North Bridge and Penn Station will go a long way to ensure safety for the traveling public," said Congresswoman Lowey. "I'm particularly pleased that after years of pressure, the Administration has begun investing in the Gateway Project, one of the most important infrastructure investments in our county."
The grants include money for:
MTA Penn Station Access Project ($30,000,000)

MTA Long Island Rail Road (LIRR) to Penn Station Platform Improvements ($17,506,577)

Portal North Bridge Amtrak Project ($55,100,000)

Reconstruction of Substation 41 ($36,408,410)
Click here to read the entire official release
BART to San Jose Opening on June 13
The long-awaited BART extension to San Jose will open June 13, officials at the transit agency said Tuesday, in concert with their partners at the Santa Clara Valley Transportation Authority (VTA).
Politicians and transit leaders made the announcement at a podium outside Berryessa station, the new end of the line in north San Jose. The 10-mile, $2.3 billion extended segment into Silicon Valley also includes a station in Milpitas and VTA projects that by 2030 roughly 20,000 passengers will use the Milpitas station each day and 25,000 will pass through the Berryessa station. A further six-mile extension into San Jose has yet to begin construction.
Brightline Will Be Shut Down For 'The Coming Months'
An Important Update: Brightline will be temporarily suspending service, effective Wednesday, March 25, with our last train southbound at 6:40pm and northbound at 6:50PM. pic.twitter.com/msbn7GfAwO

— Brightline (@GoBrightline) March 25, 2020
The COVID-19 pandemic has wreaked havoc with yet another transportation agency, as the soon-to-be rebranded Virgin Trains USA has announced it is shutting down operations for the foreseeable future.
Through a series of Twitter and Facebook posts earlier this week, Brightline said that they were halting service on starting on Wednesday, May 20th and -- while no statement was made on when their trains would return -- they did say that "it is expected to take a long period of time for service demand to return to pre-virus levels." The company did promise that on-going construction work for their expansion to Orlando would continue. The connection between West Palm Beach and Orlando is expected to be completed sometime in 2022.
While Brightline's rocky beginnings are well documented, prior to the pandemic grinding the U.S. economy to a halt, year-to-date ridership for the South Florida railway was up 11% from 2019 with revenues closing in on $7 million.
Texas Central Opponents Heading To State Supreme Court
by Jim Mathews / President & CEO
An aggrieved Texas landowner at the center of opposition to the Texas Central high-speed rail project says he's taking his claim that Texas Central doesn't count as an actual railroad all the way to the Texas Supreme Court.
After four years – and doubtless many tens of thousands of dollars in lawyers' fees – a Texas appeals court two weeks ago found that Texas Central Railway is legitimately both a railroad and an interurban electric railway, relying largely on the Texas Supreme Court's previous rulings about how to read the text of the Texas legislature's laws and what is and is not a "common carrier."
Undeterred, landowner James Miles says he's not finished. He has until July 22 to file his petition with the Texas Supreme Court asking them to agree to hear his case. That request is right now in the docket under Case Number 20-0393.
There's no guarantee that the Texas Supreme Court will even take the case. That's the first hurdle. Then, even if it does, Miles would have to get the Court to do two more things in order to win – ignore Texas' Code Construction Act and repudiate a three-year old decision the Supreme Court already made about how to meet the test of being a common carrier. How would that work?
First, for the Code Construction Act, he'd have to persuade the state's top court to ignore this law that guides jurists in how to interpret Texas statutes. That law declares that when reading Texas laws "words in the present tense include the future tense." Miles argues that the word "operating" in this instance means Texas Central has to already have tracks and stations and other outward elements of a functioning railroad before it can do the things that railroads do – land surveys, for example, or claiming the potential to exercise eminent domain. In other words, he claims "operating" does not include the future tense, which would fly in the face of the Code Construction Act.
Appellate judge Nora Longoria of Texas' Thirteenth District Court of Appeals flatly rejected the claim in her May 7 decision. "Miles's interpretation would have this Court ignore the legislature's instruction under the Code Construction Act by limiting the word 'operating' to solely the present tense," she wrote. "We decline to do so." Miles is effectively asking the Supreme Court to do what the Appeals court declined to do, which is to ignore the legislature.
Second, Miles would need to get the Texas Supreme Court to back off from its 2017 decision in a pipeline case called Denbury Green Pipeline-Texas, LLC v. Texas Rice Land Partners, Ltd. In that case, the Supreme Court said the pipeline met the test in the Texas National Resources Code to be a "common carrier" because there was a reasonable probability that once it was finished "at some point after construction" the pipeline "would serve the public." So long as there were concrete steps being taken to carry out the project – something more solid than just completing a form to qualify to exercise eminent domain powers – that was enough to meet the test in the law that a project was reasonably expected to become reality.
Longoria noted in her decision that "while it is undisputed that appellants have not yet physically laid tracks or began to carry passengers or freight onboard a train, appellants have taken many of the necessary steps in order to be able to create and operate a railroad in the future." Texas Central has spent years working with regulators, including the Federal Railroad Administration, started design, construction, and management operations, conducted land surveys, and entered into purchase agreements.
"Considering the legislature's instruction to view present tense as including future tense in the statute and the actions taken by appellants to begin to operate a railroad, we conclude that TCRI [Texas Central Railroad & Infrastructure, Inc.] and ITL [Integrated Texas Logistics, Inc.] are railroad companies," Justice Longoria said in the May 7 decision.
As we've said before, the question of eminent domain power is always emotional, and especially so in Texas. The Appeals Court even acknowledged this. But Texas Central has declared repeatedly that while it has the ability to use eminent domain – just like other utilities – it will use that power sparingly and only as a last resort. In fact, Texas Central publicly committed to a detailed landowner bill of rights for potentially affected landowners that goes beyond the existing Texas landowners' bill of rights.
Among the protections Texas Central outlines are a commitment to acquiring the bare minimum of land required for the right of way, payment at or above market rates and putting landowners first in line to get their properties back if the rail project fails to materialize. These are strong protections and Texas Central is doing their best to move the project forward while being fair to everyone involved.
Miles would seem to have a steep hill to climb in this final phase of his battle with Texas Central. However, stranger things have happened. Rail Passengers is dismayed to see this fight drag on given the degree to which Texas Central is trying to appease landowners. Moreover, this risks billions of dollars of economic growth and the potential to stimulate new travel not just on Texas Central but even on our publicly funded Amtrak network.
Just like in the movie, our advice is: "Let It Go."
2020 Spring Advocacy Summit and Day On The Hill
On March 9th, when the initial postponement was announced, we sincerely hoped three months' time would be enough to be able to bring everyone together in June. Unfortunately the persistence of the coronavirus threat across our country has led us to reschedule all in-person meetings until 2021.
The Spring Summit and Day On The Hill activities put us front and center with decision makers on Capitol Hill and it gives all of us a chance to share our successes -- and there have been so many in the past few months! But we have to embrace a new way of conducting business, at least temporarily.
Outlined below are the Association's exciting plans to keep the energy going, to keep our message in front of the people who will decide rail's future, and to do an even better job of supporting YOU in your efforts to focus on projects in your community that are most important to you, alongside your help fighting for national passenger rail priorities.
Spring Meeting, Hotel Planning And Options
We are working with our hotel partner for new dates in the Spring of 2021. Much will depend on the hotel's book of business, the degree to which we and other groups may incur financial penalties, how many other groups have cancelled, along with other factors which frankly are out of our control such as local or state restrictions. Even so, we're doing our best to secure new 2021 dates that are closer to our traditional dates -- April 4 through April 7. As soon as additional information is available we'll share it with you.
Meanwhile, because we are postponing until 2021, the options below are offered for your consideration.
Apply your 2020 registration fee to RailNation:DC 2021. If you choose this option, you will be locked in at the 2020 rate no matter what. So, if event registration fees were to be higher in 2021, you would still owe nothing further to the Association.

Consider donating your RailNation:DC 2020 registration fees to the Association. Like many other non-profit organizations, we are seeing real financial impacts from the COVID-19 crisis, and we would appreciate your generosity. You will receive a tax receipt for your records showing your donation. If you register for RailNation:DC 2021 you will be paying the 2021 event registration rate.

Request a refund. If you register for RailNation:DC 2021 you will be paying the 2021 event registration rate, which could be higher.
The above options only relate to fees paid to the Rail Passengers Association. You will need to contact the Embassy Suites by Hilton in Old Town Alexandria to cancel your hotel reservations. Remember to also reach out to your travel provider to better understand the options available to you. Please make sure you mention that the event you were traveling to attend was postponed to 2021 due to the coronavirus.
Please send an email to Jonsie Stone, [email protected], with your preference. Include in the subject line RailNation:DC Registration Option. This way we can be sure we don't overlook anyone's responses.
Staying In Front Of Policymakers While Also Staying At Home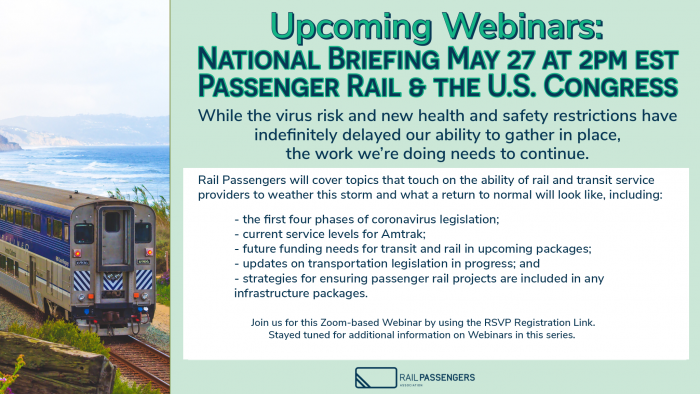 Click The Image Above To Register
Starting May 27th, and continuing every month afterwards, we'll be organizing a series of online events for anyone who wants to keep informed, stay involved, and upgrade their personal organizing and advocacy skills. The idea is to give you the knowledge, the background, and the practical tips you'll need to help us carry on this work from wherever you are. We've already started developing a series of programs to cover the following:
National Briefing (May 27): Beginning with a dive into policy, we will review the first four phases of coronavirus legislation and what it means to current service levels for Amtrak and transit; future needs for transit and rail in any upcoming packages; updates on transportation legislation that is currently in play; and strategies for ensuring passenger rail projects are included in any upcoming infrastructure packages.

Online Advocacy 101: Focusing on communications and messaging, our team will provide a walkthrough of best practices for engaging an audience using the new digital tools and social media, gaining the attention of policy makers through online channels, free online platforms for hosting regional meetings and conferences, and more.

Corridor Spotlights: Our field team will coordinate with our Council Members and local groups to provide regional updates on corridor development initiatives, speakers from state rail groups to help provide vital local context, and opportunities to get personally involved at the local level.

Transportation Stakes in the 2020 Elections: The policy staff will walk you through potential outcomes in the 2020 general elections and their projected impact on transportation policy at the federal level, key national- and state-level races to watch, and any state and local transit initiatives on the ballot [Rail Passengers is a 501(c)(3) and is prohibited by law from endorsing any political candidates].
Our team wants to hear from you about any additional topics you'd like us to cover:
Is there a specific corridor or region you'd like us to focus on?

Have an idea for a campaign, but need to see how the policy team would go about creating a communications strategy and ground game?

Do you have questions about how a federal grant program works?
Help us understand what you need to be a more effective voice for passengers in your region! Please reach out to Joe Aiello ([email protected], Subject: Webinar Topics) with topics and questions you'd like addressed in any upcoming Rail Passengers briefings.
Register for our May 27 National Briefing webinar!
Please consider applying your 2020 RailNation:DC registration fee to next year's event or simply making it a donation. And please also plan to take part in as many of our new online events as you can.
We look forward to working together to represent the interests of America's passengers over the coming months!
---
If you are renewing or donating by credit card, before you seal your envelope, PLEASE double check to make sure you've marked the amount of your donation/membership, the card's expiration date and CVV number. Without that information your payment/donation can not be processed. The information on the form helps us allocate your contribution.

Save us postage. If you respond to one of our membership renewals or direct mail appeals, you can save us money on postage if you apply your own stamp to the reply envelope. Every little bit helps!

Check your envelopes before returning your donation. If you respond to one of our direct mail appeals, please double check the return envelope before you seal it. We've had several instances over the last few weeks of receiving sealed, empty envelopes. Also, please include the buck slip or coupon attached at the bottom of our letters.

While the Rail Passengers staff is working remotely, we are unable to print permanent membership cards or membership/benefits information. Luckily, you can find information about your Rail Passengers membership (like your member number and membership level), update your personal information, and print a temporary membership card by creating an account at www.railpassengers.org and selecting "My Account" on the homepage. Additional member benefits information can be found on our website.

While the Rail Passengers staff is working outside of the office, without access to stationery, mailed copies of 'thank you' letters are a challenge. We are currently working with our Neon membership database to use email distribution as an alternative; let us know at [email protected] if you would like us to add your email address to your account. Even though the thank you letters are delayed, please know that your membership and donations are immensely appreciated. Thank You!

In addition to including funding for passenger trains and transit agencies, the Coronavirus Aid, Relief, and Economic Security (CARES) Act also included new tax incentives for charitable giving. We've provided a quick overview here and encourage each of you to seek advice from a financial planner.

---
#ICYMI - In Case You Missed It: This Week's Social Media Highlights
As we wrap up another week at home, our social media has been buzzing! From PPE updates to reopening services, we want to make sure our members are receiving news that keeps them safe, healthy, and up to date. This week we covered our upcoming webinar series, Amtrak Board nominees, newly opened BART stations, Texas Central, and PTC Deadlines. Follow along and join the digital conversation. We may be apart, but we can still be connected and make our voices heard.
Top Comment of the Week:
This high speed train, running from Dallas to Houston, will be absolutely wonderful in helping to reduce car traffic, road congestion, and air pollution, as well as in helping to improve air quality and regional mobility, as the Dallas-Fort Worth and Houston-Galveston areas, along with many parts of Texas, continue to grow! - Paul McManus
Follow along and join the conversation via Facebook, Instagram, and Twitter, and our blog posts on RailPassengers.org
If you are working with a local organization and have news you would like to share, please reach out and let us know by emailing Madi Butler ([email protected]) with links to your press release, blog, or article. Are you holding a community meeting, networking opportunity or another kind of rail-advocacy event? We can help spread the word if you send them to us. Email Joseph Aiello ([email protected]) We will include those updates in our coverage and put them on the website here.
---
Rail Passengers Track Update
Where are we and what are we working on? This section will update you on what Rail Passengers HQ is up to...even when we're all working online or from home!
Jim Mathews, President & CEO, spent much of this week focused on internal matters but found time to review Rep. Seth Moulton's visionary proposal for real rail investment in the U.S. Jim is also working behind the scenes spearheading a summit to bring together transportation leaders from industry, academia and the Federal government to examine what it takes to restore transportation in the U.S. in a way that's safe enough to encourage passengers to return. That meeting should take place in early June.

Sean Jeans Gail, Vice President of Policy, prepared for next week's national policy briefing by doing a deep dive into past and present legislation to look at the legislative response to the coronavirus pandemic, while simultaneously working with several offices in the House and Senate to develop and support passenger rail legislation in advance of the surface transportation reauthorization. One of efforts produced fruit with the release of Rep. Seth Moulton's exciting new high-performance rail bill. Jeans-Gail also virtually attended the U.S. Senate Committee on Commerce, Science and Transportation to monitor the consideration of several nominees to the Amtrak Board of Directors.

Carolyn Cokley, Director, Customer Programs, has continued this week recruiting for and setting up the Focus Group project including a custom form for collecting data and reporting out data.

Joseph Aiello, Field Coordinator, continued his work with the rest of the staff in preparing for next week's national briefing webinar. Joe has also been busy preparing next month's Passengers Voice newsletter as well as working with Madi Butler on the Association's social media outreach.

Madi Butler, Grassroots Organizer, is continuing to hone our social media presence by expanding our reach through digital platforms. They have also been actively assisting the rest of the policy/field team for next week's webinar.

Jonsie Stone, Director, Resource Development, spent the week finalizing the newest special appeal, processing donations and handling Association administrative activities.

Kim Williams, Membership Manager, focused on strategic planning for membership this week, as well as the usual responding to member questions and processing dues payments.
---
Stuck at Home for Awhile? Grab a Copy of Lonely Planet's 'Amazing Train Journeys' and Support Your Association at the Same Time
If you're spending more time than you used to at home waiting for the "All Clear" to start hitting the rails again, why not order yourself a copy of Lonely Planet's 'Amazing Train Journeys' guidebook to pass the time? It's not only a gorgeous and fun book, but with every purchase Lonely Planet will donate 15% of the proceeds to your Association, to help us keep working for More Trains, Better Trains and a commitment to better infrastructure! You win and we win!
Through this beautiful book, you'll experience 60 of the world's greatest and most unforgettable train journeys, from classic long-distance trips like Western Canada's Rocky Mountaineer and Darwin to Adelaide's The Ghan, to little-known gems on regular commuting lines. It's the culmination of asking more than 200 travel writers for their absolute favorites.
Some are epic international adventures, others are short suburban routes along stunning coastline. There are incredible feats of engineering, trains that snake their way through mountain peaks, and even those which have achieved Unesco World Heritage status.
More than just a collection, each profile will give you the practical information you need to experience one or more of these epic journeys yourself -- including ticket options, timetables and stops, plus inspiring photos and illustrated maps. It's all here!
Amazing Train Journeys is available as a book, e-Book or in both formats at a low combination price. And your purchase helps supports your Association's mission too! Remember, Lonely Planet is contributing 15% of all Amazing Train Journeys sales to Rail Passengers! You can order copies by clicking here!
---

Get Your Own 'Rail Passengers' Signature Federal Credit Union VISA Card!

We are excited to announce our recent partnership with Signature Federal Credit Union. Rail Passengers members now have access to a full service, nationwide federal credit union with extensive product and service offerings. Signature FCU also becomes the exclusive provider of the Rail Passengers Association-branded Visa credit card with our logo, which supports our work by giving back to our organization, and gives you 1 point for every $1 you spend to redeem for travel and merchandise. The card has no annual fee, no balance transfer fees, no foreign transaction fees, and has a very low interest rate.
Gifts from Donor Advised Funds
If you have a donor advised fund, please consider recommending a grant from your fund to be the Rail Passengers Association. It is a great way to maintain flexibility with your support throughout the year. For more information, go to http://myimpact.railpassengers.org/daf. As always, please feel free to contact Jonsie Stone if you have any questions.
The Rail Passengers Association would like to thank our Annual Partners for their support!
---

Upcoming Events
go to railpassengers.org/events for more events and information
Due to the current situation with the COVID-19 outbreak, many meetings around the country are being postponed and rescheduled for later dates. Please check our events page for updates and information.
Please contact Joe Aiello ([email protected]) to have a local, state or regional meeting added to the Rail Passengers calendar (print and on-line) of upcoming events!
---
Amtrak Passenger Service Notices
Temple, TX, Station Waiting Room Temporarily Closed
Effective May 22, 2020
The Temple, TX, station waiting room is temporarily closed on May 22. Trains will continue to stop at the station and passengers will have access to platforms.
Passengers will not have access to the inside of the station or restrooms and there will be no checked baggage on this day.
Rather than waiting for trains outdoors, please use the Amtrak app or other means to check train status while waiting in a personal vehicle.
Pacific Surfliner One Day Schedule Change
Effective Sunday, May 24, 2020, Only
Due to a specialized equipment move by BNSF on Sunday, May 24, Pacific Surfliner and Thruway service will be affected as described below.
Pacific Surfliner Service, Northbound:
Train 785, which normally operate between San Diego and Los Angeles, will be cancelled.
Pacific Surfliner Service, Southbound:
Train 796, which normally operates between Goleta and San Diego, will terminate at Los Angeles. Bus 3596 will provide alternate transportation between Los Angeles and San Diego, serving all intermediate stops.
Thruway Buses:
Bus 4591 will depart Los Angeles at 9:55 p.m., 2 hours and 25 minutes later than normal to connect to Train 593, operating later at all stations from Los Angeles to Santa Barbara.

Bus 5885 will connect to earlier Train 579 at Los Angeles.

Bus 5710 will not stop at San Pedro or Long Beach.
City of New Orleans Train 59 Schedule Changes
Effective May 21-22 and 26, 2020
Please be advised that Canadian National Railway continuing track work, affecting the City of New Orleans service as outlined below:
Train 59 will depart Jackson at 12:50 p.m., 90, minutes later than normal and operate on this later schedule at all intermediate stops of Hazlehurst, Brookhaven, McComb and Hammond.
San Joaquins Service Schedule Changes
Effective May 29 and 30, 2020
Please be advised that the San Joaquins service will operate on limited schedules until further notice. Additionally, track work performed by BNSF Railway will affect service on May 29 and 30.
Train Service Changes
Trains 701, 702, 703, 704, 714 and 717 and Thruway Bus connections are cancelled.

Thruway buses 3512 and 3519 between Bakersfield and Las Vegas are cancelled.

Please visit https://amtraksanjoaquins.com/amtrak-san-joaquins-covid-19-serviceadjustments/ for the most up to date Thruway schedules.

Café car service is suspended effective March 26. Complimentary snacks and water will be available.
Track Work Affects Service May 29-30
Friday, May 29, Train 718, which normally operates from Oakland (Jack London Square) to Bakersfield, will terminate at Wasco.

Amtrak Thruway Bus 5818 will originate at Wasco and provide alternate transportation between Wasco and Bakersfield.

Saturday, May 30, Train 711, which normally operates from Bakersfield to Oakland (Jack London Square), will originate at Wasco.

Amtrak Thruway Bus 5811 will provide alternate transportation between Bakersfield and Wasco. Bus 5811 will depart all station stops from San Diego to Bakersfield 15 minutes earlier than normally scheduled.
Station Changes
Station buildings at Fresno, Hanford, Merced and Modesto are closed, until further notice. Customers boarding at these stations should proceed directly to the train and may purchase tickets onboard from the conductor.

Bakersfield, Stockton, Sacramento, Emeryville, Martinez and Oakland will operate with reduced staff and hours.
Carolinian Trains 79 and 80 Palmetto Trains 89 and 90
Silver Star Trains 91 and 92 Silver Meteor Trains 97 and 98
Effective May 10 through June 2, 2020
Due to track work being performed by CSX, the following trains will be impacted:
Silver Star Trains 91 and 92, May 10 through June 2
Train 91, which normally operates between New York and Miami, will be cancelled on Monday through Thursday with no alternate transportation provided.

Train 91 will operate on its normal schedule Friday through Sunday.

Train 92, which normally operates between Miami and New York, will be cancelled Sunday through Wednesday with no alternate transportation provided.

Train 92 will operate on its normal schedule Thursday through Saturday.
Silver Meteor Trains 97 and 98, May 9 through 31
Train 97, which normally operates between New York and Miami, will be cancelled Friday through Sunday with no alternate transportation provided.

Train 97 will operate on its normal schedule Monday through Thursday.

Train 98, which normally operates between Miami and New York, will be cancelled Thursday through Saturday with no alternate transportation provided.

Train 98 will operate on its normal schedule Sunday through Wednesday.
Carolinian Trains 79 and 80, Monday through Thursday, May 4 through 31
Carolinian Trains 79 and 80 are cancelled through Sunday, May 17.

Beginning May 18, Carolinian Trains 79 and 80 will operate between Charlotte and Raleigh, only.

Trains are cancelled between New York and Raleigh, with no alternate transportation provided.

Amtrak Thruway Buses 6079 and 6080 are cancelled through May 31.
Track Work Affects Empire Builder Service
Effective Weekdays, May 12 - 27, 2020
Due to track work being performed by BNSF, Empire Builder service will be affected as described below:
Monday-Friday, May 12 through 27 (Except May 25)
Train 7 which normally operates between Chicago and Seattle, will terminate at Spokane. Alternate transportation will be provided to the missed station stops of Edmonds, Everett, Leavenworth, Wenatchee and Ephrata.

Bus 3007 will operate from Spokane to Seattle connecting with Train 7 at Spokane.

Train 8 which normally operates between Seattle and Chicago, will originate at Spokane. Alternate transportation will be provided to the missed station stops of Ephrata, Wenatchee, Leavenworth, Everett and Edmonds.

Bus 3008 will operate from Seattle to Spokane connecting with Train 8 at Spokane.

There will be no track work Saturdays, Sundays or Monday, May 25.
Washington, D.C., Union Station Boarding Changes
Effective May 4, 2020
For the safety of our customers and employees, and to promote physical distancing, Washington, D.C., Union Station will implement several boarding changes effective May 4.
Boarding Changes:
Priority boarding will be discontinued, and boarding times will be adjusted, to avoid lines and waiting in the station.

Passengers without checked baggage are advised to be at the station no more than 30 minutes prior to departure and passengers with checked baggage, no more than 60 minutes prior to departure.

Amtrak is limiting reservations to 50% of the available seats to ensure plenty of available seats.

Amtrak employees in stations and on board are required to wear facial coverings and customers are strongly encouraged to wear masks when using Amtrak services at this time.

Boarding will begin approximately 20 minutes prior to departure.
Temporary Station Changes Wilmington's, Joseph R. Biden, Jr. Station
Effective May 10, 2020
Effective May 10, Wilmington's Joseph R. Biden, Jr., station will reduce the number of entrances and modify station hours, until further notice.
Station Changes:
Station entrances will be reduced to the accessible entrance at the corner of French and Front Streets.

Facial coverings are required when in the station per Delaware State Ordinance.

The station will be closed between 12:00 am and 5:45 am, to all non-Amtrak personnel, in order to clean and disinfect for our riders and employees.

Faber store is closed.

Restrooms are closed to the public

SEPTA/DART ticket office is closed. Tickets may be purchased on the train.

Only ticketed passengers, or those wishing to purchase tickets, are permitted inside the station during this time. SEPTA passengers needing to purchase a ticket can come into the station approximately 15 minutes prior to train departure.
Temporary Station Changes Milwaukee Downtown Station
Effective Immediately
Effective immediately, the Milwaukee Downtown station will reduce ticket office hours and implement various station changes, until further notice.
Station Changes:
The ticket office will be open 5:30 am to 8:00 pm.

Station entrances will be reduced to the west end door, only.

The station will be closed between 10:00 pm and 5:15 am, to all non-Amtrak personnel, in order to clean and disinfect for our riders and employees.

Only ticketed passengers, or those wishing to purchase tickets, are permitted inside the station during this time.
Amtrak Thruway Buses Temporarily Replace Hiawatha Trains
Between Milwaukee and Chicago
Effective Friday, April 24, 2020
In response to lower ridership demand due to the COVID-19 pandemic, Amtrak, in partnership with the Wisconsin and Illinois state transportation departments, will temporarily substitute daily Amtrak Thruway Buses for Amtrak Hiawatha Service trains between Milwaukee and Chicago.
Effective Friday, April 24, Bus 3332 will operate in place of Hiawatha Service Trains 330 and 332. The bus will originate at the downtown Milwaukee Intermodal Station at 7:55 a.m. and arrive at Chicago Union Station at 9:54 a.m. Also effective that day, Bus 3339 will operate in place of Hiawatha Service Train 339, originating in Chicago at 5:00 p.m. and arriving at the Milwaukee Intermodal Station at 6:59 p.m. All times local.
These buses will serve all Amtrak stations on the Hiawatha Service corridor except Glenview, Ill. The Amtrak Empire Builder serves Glenview and will continue to also temporarily provide daily service at all other Hiawatha stations. Full schedules are on the Amtrak Passenger Service Notice.
Reservations will be required in order to maintain social distancing for seating on Buses 3332 & 3339. Amtrak customers traveling with current monthly and 10-ride tickets are welcome without reservations.
Customers are strongly encouraged now to wear masks while using all Amtrak services. The bus operator will wear a facial covering while interacting with customers and the buses will be thoroughly cleaned between trips. More information about safe essential travel is at Amtrak.com.
The Thruway Bus service substitution will be in effect through Monday, May 25. Hiawatha train service is expected to resume on Tuesday, May 26. These ADA-accessible motor coaches offer passengers many of the same features as our trains including Wi-Fi service, reclining seats, ample legroom, tables, cupholders and lavatories.
Wolverine Trains 351 and 352 Blue Water Trains 364 and 365
Effective April 27, 2020
Due to track work being performed by Amtrak, and Norfolk Southern, Wolverine and Blue Water Service will be affected, as follows:
Blue Water Trains 364 and 365
Train 364 will arrive at Port Huron 28 minutes later at 11:59 pm.

Train 365 will depart Port Huron 28 minutes earlier, at 5:52 am, arriving at Chicago 17 minutes later at 12:02 pm.
Wolverine Service
Train 351 will depart Pontiac 38 minutes earlier at 5:12 am, arriving in Chicago at the scheduled time of 10:32 am.

Train 352 will depart Chicago 30 minutes earlier at 12:55 pm, arriving at Pontiac 7 minutes later at 8:39 pm.
Thruway Service Changes Sunset Empire Bus Terminal in Astoria Temporarily Closed
Effective April 27 through May 31, 2020
Attention Amtrak Passengers: Amtrak Thruway Service between Portland and Astoria will be reduced, effective April 27 through May 31. The Sunset Empire Bus Terminal in Astoria is temporarily closed.
Thruway Schedules Reduced
Buses 5500 and 5565 are suspended

Buses 5563 and 5564 will continue to run, offering two round trips daily from Portland to Astoria.
City of New Orleans Trains 58 and 59 Suspended between McComb and New Orleans
Until Further Notice
Please be advised that Canadian National Railway is prohibiting passenger trains over the Bonnet Carre Spillway due to planned emergency flood control, affecting the City of New Orleans service as outlined below:
Train 59, which normally operates between Chicago and New Orleans, will terminate at McComb, MS. Bus 3259 will operate between McComb and New Orleans, serving intermediate station stop of Hammond.
Train 58, which normally operates between New Orleans and Chicago, will originate at McComb, MS. Bus 3258 will operate between New Orleans and McComb, serving intermediate station stop of Hammond. Bus 3258 will depart New Orleans at 1:00 pm, 45 minutes earlier than Train 59's scheduled departure time.
Please note: Trains 58 and 59 will not stop at Brookhaven and Hazlehurst and no alternate transportation will be provided.
Piedmont Services Schedule Changes
Effective March 23, 2020
Piedmont Service schedules are adjusted effective March 23, until further notice, as outlined below:
Train Service Changes
Piedmont Trains 73, 74, 77 and 78 are cancelled.

Piedmont Trains 75 and 76 will operate daily on their current schedule.
Vermonter and Ethan Allen Schedule Changes
Effective March 26, 2020
Effective March 26, schedule changes and station closures will impact Vermonter and Ethan Allen trains, until further notice, as outlined below:
Vermonter Trains and Stations:
Trains 54, 55, 56 and 57 will not operate between New Haven, CT and St. Albans, VT.

Vermonter trains will continue to operate between Washington, D.C. and New Haven, Monday through Saturday.

All Amtrak stations in Vermont are temporarily closed.
Ethan Allen Trains:
Ethan Allen trains will not operate between Rutland and Albany.
Coaster Commuter Trains
Effective March 23, 2020
The North County Transit District has announced it will temporarily reduce service for its Coaster commuter trains starting Monday.
Weekday train service will be reduced by about 50%, particularly around the noon hour, when several northbound and southbound trains will be suspended. Likewise, just one evening train in either direction will continue to run, 5:41 p.m. southbound and 7:13 p.m. northbound.

Southbound commuters will have to be on the 7:40 a.m. train or wait until 2:42 p.m. Northbound commuters can leave as late as 9:18 a.m.

Weekend Coaster service will be suspended entirely beginning March 28. The Breeze bus service has been temporarily eliminated.

In addition to the Coaster trips which will remain active, riders with a valid Coaster Regional day or monthly pass will still be able to ride the Amtrak Pacific Surfliner. Amtrak will also be implementing service reductions.
Travel Tip of the Week
Amtrak introduces activity center to provide kids with educational activities
Amtrak is encouraging kids to learn more about trains and train transportation.
This week the Amtrak Activity Center debuted their educational train-related activity portal. The purpose is to teach children about railroads, geography, and safety while inspiring future train travel. The games are for kids in kindergarten to 5th grade and offer educational and train-related activities to assist learning from home during the COVID-19 pandemic, through the following activities:
New activities and categories, such as railroad safety and Amtrak sustainability facts and initiatives, will be added every few weeks.
TravelReview Feedback Card
As you travel, please help us promote the Travel Review with other rail passengers. As you encounter passengers who want to make their positive and negative opinions known, please direct them to www.railpassengers.org/Travel Review. All participants will remain anonymous. If you encounter any problems with the Travel Review, or have any questions, please send an email to [email protected]
Do You Need More TravelReview Feedback Cards?
Please help us to spread the word. We need your help in engaging other passengers when you travel and let them know that their feedback is welcomed by RailPax. To facilitate this sharing of information the TravelReview Feedback Card is now available for you to download and print for regular usage. The card can be given to fellow passengers to introduce the work that RailPax is doing as well as our desire to have their feedback. The cards can also be left behind in stations as you pass through.
The template is in a .pdf format and will open in Adobe document cloud. First download the file and save it to your desktop for easy access. Then print as needed. The original template is formatted for Avery 5871 or 5371 cardstock which are both 2" x 3½" business card formats. Any brand cardstock should function as long as the dimensions match.
If you experience any problems in accessing the file, please send an email to [email protected]
Looking Beyond Pandemic: The Work Continues
Even before the coronavirus outbreak, 2020 was shaping up as a critical year for the future of American passenger rail. With Amtrak ridership down more than 90% and rescue packages taking shape for intercity passenger rail, private operators, mass transit and airlines, there is a risk that when the crisis is over critically needed investment capital will be cut off -- and the legislative gains we have spent five years setting in motion could be squandered.
Amtrak is quasi-public corporation, with the federal government providing a significant portion of the railroad's annual operations and capital budget. The current funding authorization expires at the end of FY2020, and in 2020 the Rail Passengers Association will be leading efforts in the courts and on Capitol Hill to ensure that America's passenger rail service continues to thrive. We will fight to sustain our vision of "A Connected America" where all of us, rich or poor, rural or urban, are linked together.
We're committed to this work and ready to take action, but we can't do it alone. As we gear up to fight for passenger rail's present and future, please consider donating to support this critical work.
"I wish to extend my appreciation to members of the Rail Passengers Association for their steadfast advocacy to protect not only the Southwest Chief, but all rail transportation which plays such an important role in our economy and local communities. I look forward to continuing this close partnership, both with America's rail passengers and our bipartisan group of senators, to ensure a bright future for the Southwest Chief route."
Senator Jerry Moran (R-KS)
April 2, 2019, on receiving the Association's Golden Spike Award for his work to protect the Southwest Chief