Happening Now
Short-Staffed, Amtrak Eyes 2023 Growth
By Rail Passengers Staff
The staffing shortage plaguing American businesses of all kinds continues to bite down hard at Amtrak, whose leadership acknowledged yesterday during a public Board of Directors meeting in St. Louis that despite their best efforts those shortages are going to keep crimping service for much of 2023.
"I understand the frustration," Amtrak Chairman Anthony Coscia told Rail Passengers President & CEO Jim Mathews during a question-and-answer period at the Board's briefing. "We are still disappointing people because we don't have enough resources from a personnel standpoint to bring back service the way we'd like to."
Coscia was responding to a question Mathews posed during the Board session.
Mathews told the Board Members that "choices surrounding furloughs and equipment have left Amtrak struggling to accommodate demand surges – both on specific routes and over travel periods, such as Thanksgiving.
"In a Senate Commerce Committee confirmation hearing for recently nominated members to this very Board, Chair Maria Cantwell said she wouldn't support any nominee who did not commit to coming up with a workforce strategy to fully restore service, emphasizing she will no longer accept Amtrak's excuses for not having enough conductors, baggage handlers, and maintenance crews to run its trains," Mathews continued. "What advice do you have for the incoming nominees on this problem? And how can the Board help create more accountability within the railroad for failures to meet certain benchmarks?"
Coscia noted that "we're trying, basically, to rebuild a workforce that had kind of atrophied to a certain degree."
In an additional response, Amtrak President Stephen Gardner specifically rejected the suggestion that furloughs in the Mechanical crafts are to blame for the backlog of equipment now stranded in the shops instead of out on the road serving passengers.
"That's not true, that's not what happened," Gardner said. "What did happen was that during this period of time" during the pandemic "when we could not hire" and train Mechanical employees, "we could not overcome the attrition. So last year we hired 3,600 people or so, but we also lost 1,600 people during that same period to retirements, to a change in job, to relocations," and other reasons.
Amtrak has "huge challenges in some areas, particularly in our mechanical crafts, our electricians, our machinists, who are really tough to get in certain locations," Gardner said. But Amtrak continues to work with its unions to find new ways to bring people on board and get them trained and functional, pointing to a new apprenticeship program for entry-level jobs as just one example.
Both Coscia and Gardner said their objective is to do more than just bring staffing up to pre-pandemic levels. "We're working every angle to be able to restore people that make the trains available to serve our customers...restore service and then grow," Gardner said. Coscia sounded a similar theme, declaring "We think many more people are going to be riding on passenger rail ten years from now, which means we're going to need more equipment and more infrastructure and more people to operate those things."
Amtrak hopes to bring on another 4,000 new employees in 2023, primarily although not exclusively in Mechanical crafts where the need is most acutely felt.
Travel news site Skift did an excellent wrap-up of the entire Board meeting, which can be found here at this link.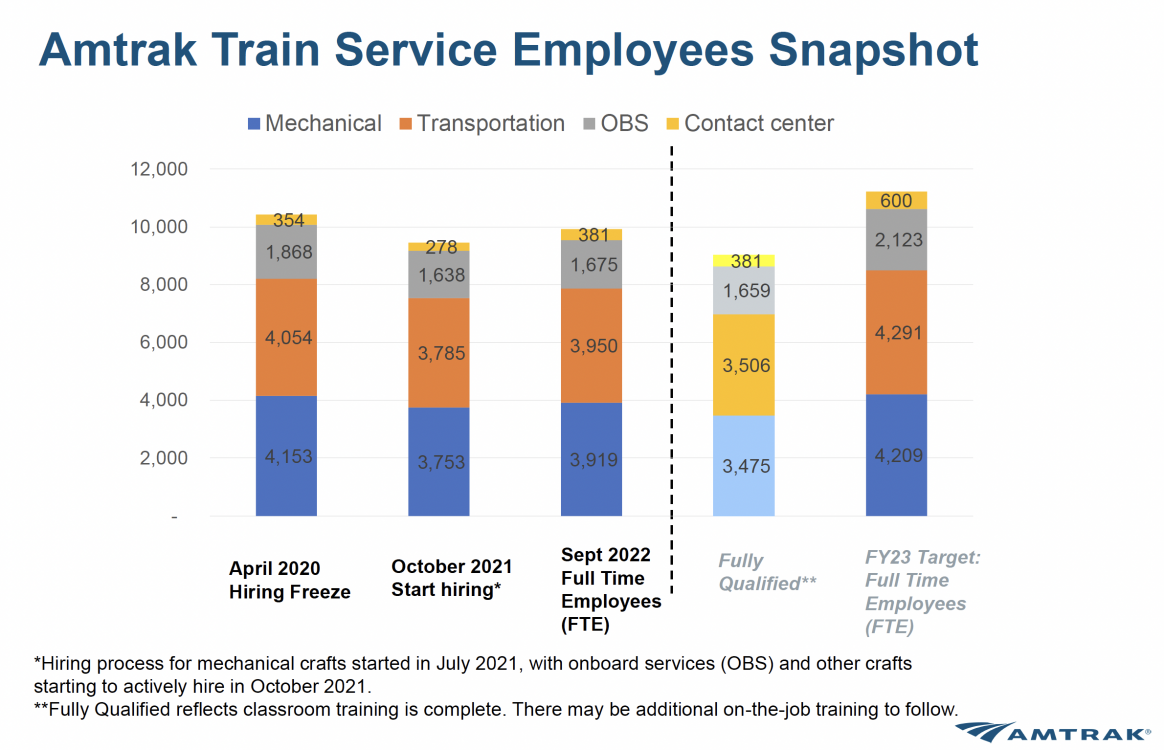 "The COVID Pandemic has been and continues to be the biggest challenge faced by Americans as it has taken a deadly toll on the world and on the world's economies. During COVID Locomotive Engineers at Amtrak and other Passenger and Freight Railroads have embodied the definition of essential workers. This dedication by our members is not new. We applaud the Rail Passenger's Association for recognizing the vital contributions of our members and their hard work moving Americans and freight during the COVID pandemic."
Dennis Pierce, Brotherhood of Locomotive Engineers and Trainmen (BLET) National President
December 21, 2021, on the Association awarding its 2021 Golden Spike Award to the Frontline Amtrak Employees.