Happening Now
One Voice Can Make A Difference
December 11, 2020
Rail Passengers mourns the passing of Alpine, Tex., advocate Gwynne Jamison.
By Jim Mathews / President & CEO
We at Rail Passengers only just learned this week that we have lost one of our most inspiring and hardworking advocates – Gwynne Jamison, an immigrant from Eastern Canada who adopted Alpine, Tex., as her home and emerged as a vocal leader in our 2017 Towns Without Trains campaign to save long-distance service, reportedly died in her sleep this past Spring.
"Her efforts gave me additional energy to continue our work," says Bruce Ashton, who is our division leader in the area and has spearheaded an effort to re-energize the Daily Sunset campaign.
Bruce recruited her into our emergency effort in 2017 to reverse draconian cuts proposed by the Trump Administration that would have eliminated the long-distance network. She cheerfully and energetically took on that task.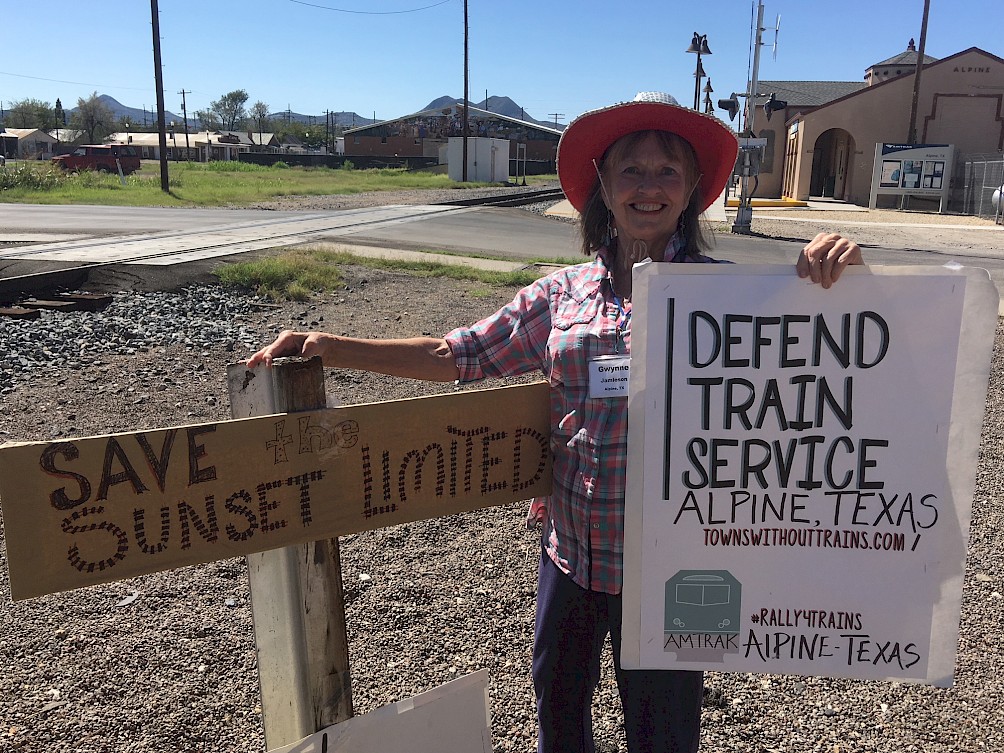 Her fellow organizer in the Big Bend area, Barry Reese, let us know about her passing and praised her for her relentless community organizing – efforts that reversed her congressman's view on long-distance service.
Her work was broad, and encompassed preserving and improving the Alpine station, protection and beautification of the park around Alpine station plus working for the return of daily Sunset service, creating a whistle-stop for Marfa, Tex., retaining whistle-stop service in Sanderson and so much more.
She was persuasive, cheerful and unstoppable...exactly the kind of presence that can win in advocacy, one voice at a time.
We corresponded often from her small outpost on the National Network, where she would update me on meetings she had and "sermons" she delivered on behalf of more and better trains. And there was always some other additional act, something that would underscore her generosity of spirit.
Here's a typical aside from one of her messages to me: "FYI - I started a free book/mags collection at Alpine Amtrak RR station several months ago - books are donated to me from various local associations and readers- this is a popular draw not only for the 5,000+ Amtrak passengers using our station, but from visitors and RR staffers- a positive force for a small friendly community!!"
We recognized her in 2017 with our first Ross Capon award as a community advocate, and we honor her memory today for everything she did to support our cause and switch one more vote in Congress. Gwynne was proof that one voice really, truly can make a difference.
"Saving the Pennsylvanian (New York-Pittsburgh train) was a local effort but it was tremendously useful to have a national organization [NARP] to call upon for information and support. It was the combination of the local and national groups that made this happen."
Michael Alexander, NARP Council Member
April 6, 2013, at the Harrisburg PA membership meeting of NARP