Happening Now
Is The New Nightjet In Amtrak's Future?
By Jim Mathews / President & CEO
Next month ÖBB, the Austrian national railway, will introduce its new Nightjet overnight trains into revenue service. I was invited this week to Vienna for a preview of the service, a tour of the Siemens-built trains, and a comprehensive briefing from the railroad and its suppliers on the Nightjet's new service models – models which hold some insight into how Amtrak could think about their own next generation of long-distance coaches and sleepers.
The seven-car train I toured offered five different levels of service, six if you count the special cabins for those with mobility challenges. Two Sleeping Cars are dedicated to service classes roughly comparable to a mix of Amtrak Bedrooms and Roomettes. Sleeping Car Comfort Plus is the highest-end product on offer, with a spacious room, two beds, and a bathroom with toilet, sink, and separate shower.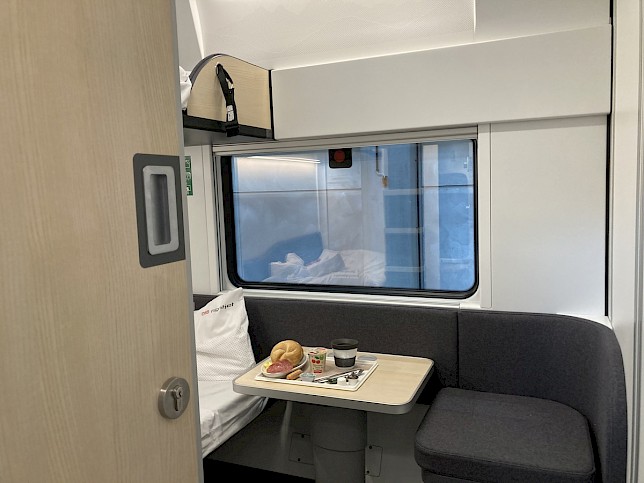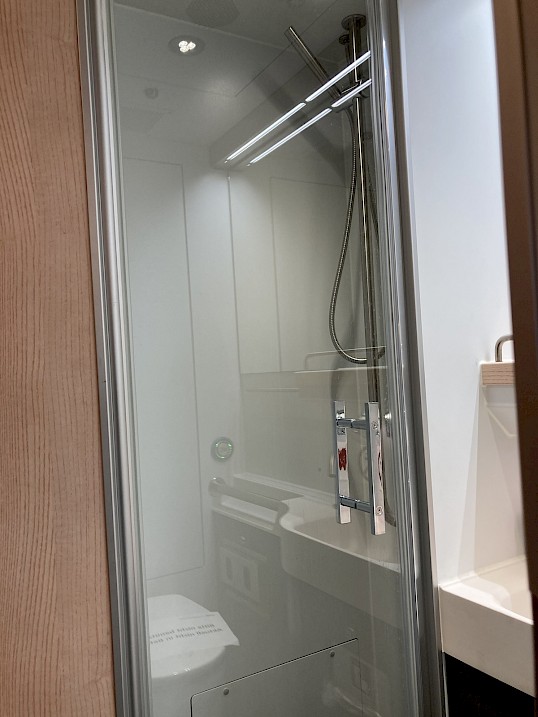 The other rooms on these cars, marketed as Sleeping Car Comfort, include two beds, and a toilet and sink fitted into a closeable compartment which doubles as a shower room – similar to today's in-room toilet and shower combination in an Amtrak bedroom.
From there, we entered the three Couchette cars which offer a bit more density but are nonetheless very comfortable. These featured several four-person/four-berth Couchette rooms which were bright and inviting, with shared toilet facilities down the hall.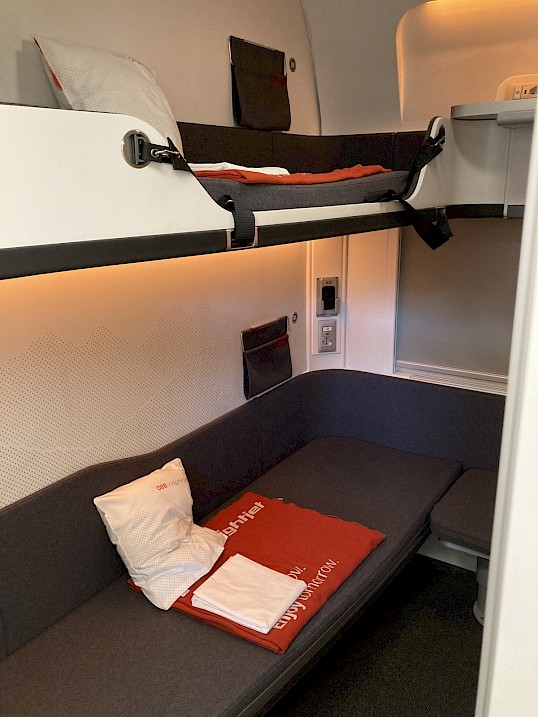 These cars also introduce the new Nightjet "Mini-Cabin" concept, which occupies the same market niche as the fondly remembered and long-gone Amtrak Slumbercoach, but is executed in a very different way.
These Mini-Cabin accommodations are for solo travelers and are set up for lie-flat only. They are small, cocoon-like individual sleeping pods, with a very small window at the head and a rollaway closeable privacy door at the feet. Luggage is stored in lockable spaces next to each pod.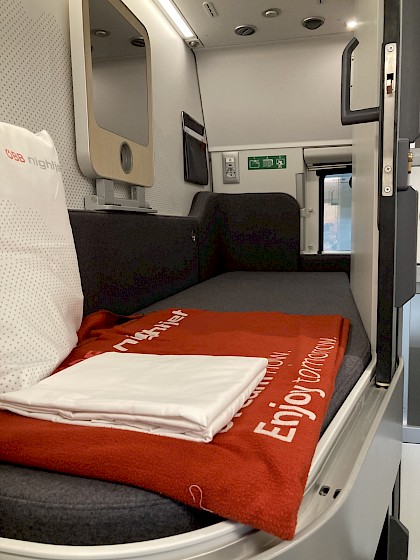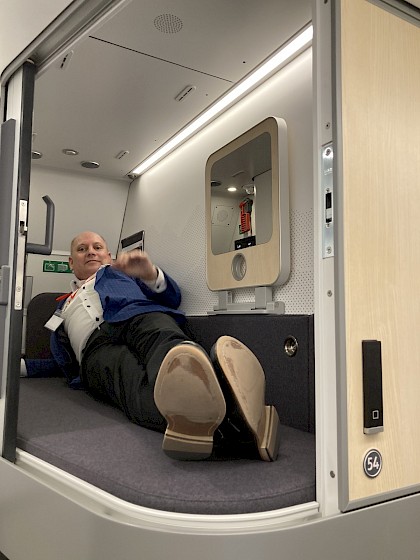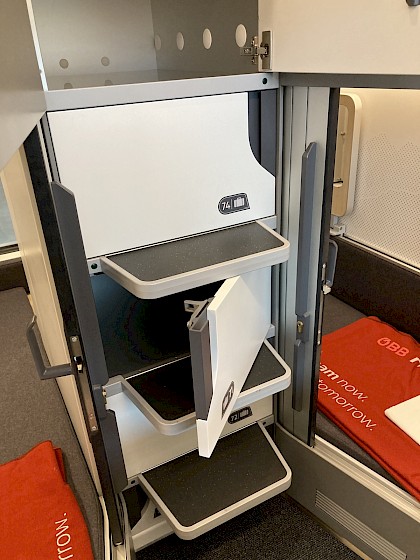 My impression of these Mini-Cabins is a highly luxurious version of the sort of space a submarine sailor might be allocated. They are comfortable and well-appointed, with inductive charging pads, a tray table, fully adjustable lighting, and an optional panel to expand the head end to permit conversation with the neighbor in the next pod. I can see something similar being very appealing to solo travelers on a budget.
The sleeping cars also feature accommodations marketed as "Barrier-Free Comfort," designed to sleep two wheelchair-using passengers along with two companions.
There is another Seating car with only seats, as well as a locomotive car that includes seating for what Amtrak would classify as coach passengers. These are large, spacious seats with at-seat lighting, a four-place table, inductive charging and at-seat power, and many thoughtful touches. Interestingly, designers chose to eliminate the problem of passengers struggling to lift heavy luggage above their heads to the overhead rack by instead elevating the seats to create space for luggage underneath them but away from your feet. It's clever and elegant and provides a surprisingly large amount of space for carry-on bags.
These trains can also handle bikes, snowboards, and skis...unsurprising for trains serving an Alpine nation.
The fabrics and finishes are clean, modern, and indulgent. Light controls are not only for brightness but for the "color" of the light, from bright white to a duskier hue more suitable for evenings. Most internal features can be controlled with a digital travel card or with a smartphone.
Food onboard is high-quality and affordable, as are the fares. The high-end bedroom can be had for as little as 125 euro ($133.78) for the 12-hour overnight trip, and the Couchette and Mini-Cabin accommodations are considerably less. I shared with my hosts that it was perfectly possible to pay as much as $1,300 for an overnight ride in an Amtrak Roomette, and that's when I learned about Austria's new "Climate Ticket" program – a flat fee for an annual pass good on all public transportation in the country, even including high-speed trains. The fare for this annual All Access pass? 1,095 euro...the equivalent of $1,172 at current exchange rates. Yes, it's true, if you want to upgrade to first class you'll have to pay another 1,300 euro...but that first-class upcharge is ALSO an annual amount. In other words, for 2,395 euro -- pretty comparable to what a lot of us are paying for a single Roomette ride across the country -- Austrian railway riders can ride high-speed, first-class, transit, and regular commuter railroads all year long.
Many of the design vendors involved in the team that helped ÖBB have been in talks with Amtrak to begin developing concepts that could find their way into Amtrak's new long-distance coach and sleeper designs. Some ideas are more likely than others to reach the U.S. market, such as the lighting, the integration of the electronics, and the toilet/shower combinations. A four-place berth room might also be attractive in the U.S. market.
The Mini-Cabin sleeping pods were extremely interesting to me, and I can see how they might be attractive to some travelers but also off-putting to others. If the choice is an affordable lie-flat sleeping option, that might well be enough to induce Americans unfamiliar with these kinds of sleeping arrangements to give them a try. I'm not sure that American travelers would be willing to embrace the Mini Cabin entirely, but I could be convinced.
We expect to see Amtrak issue its formal Request for Proposals for the long-distance equipment early next year, and that's when manufacturers who have already been involved in the initial phases will be asked to bid on the new order with their best and most innovative designs. It was hard this week to avoid the conclusion that I was getting a preview of what might be yet to come.
[Watch a new promotional Nightjet video by clicking on this link.]
"It is an honor to be recognized by the Rail Passengers Association for my efforts to strengthen and expand America's passenger rail. Golden spikes were once used by railroads to mark the completion of important rail projects, so I am truly grateful to receive the Golden Spike Award as a way to mark the end of a career that I've spent fighting to invest in our country's rail system. As Chair of the Transportation and Infrastructure Committee, it has been my priority to bolster funding for Amtrak, increase and expand routes, look to the future by supporting high-speed projects, and improve safety, culminating in $66 billion in new funding in the Bipartisan infrastructure Law."
Representative Peter DeFazio (OR-04)
March 30, 2022, on receiving the Association's Golden Spike Award for his years of dedication and commitment to passenger rail.