Happening Now
CONNECT 2037 Released
by Rail Passengers Staff

The Northeast Corridor Commission has released a 15-year plan, known as CONNECT NEC 2037 (C37), to improve commuter & intercity rail service along the 457-mile corridor from Washington, DC to Boston, MA. The plan calls for more frequent service, faster trains, and critical infrastructure improvements - funded by the Biden administration's $16.4 billion investment in place thanks to the 2021 Bipartisan Infrastructure Law. The commission says that the plan will provide much-needed capacity, reliability, and improvements for the millions of passengers that use rail service in the northeast on a daily basis.

In a statement announcing the release of the full plan, Federal Railroad Administration Administrator Amit Bose was quoted:

"The Northeast Corridor is vital to hundreds of thousands of Americans and the American economy, and investing in it is a priority of the Biden-Harris Administration. Major projects are now receiving federal support, with the Federal Railroad Administration recently awarding $16.4 billion to 25 NEC projects through our Federal State Partnership Program. Projects like the Hudson River Tunnel have entered engineering with $6.8 billion through the Federal Transit Administration's Capital Investment Grant Program. The NEC represents infrastructure of national significance, and we look forward to working with Amtrak and state partners to maximize funding in President Biden's Bipartisan Infrastructure Law and to advance projects that reduce delays, allow for increased speeds, and make trips more reliable and convenient for riders."

Key highlights of C37 include:
Double the amount of Amtrak trains between DC & NY, with a 50% increase on the northern half between NY & Boston.

60% increase in commuter rail service via MBTA, CTRail, Metro-North, LIRR, NJTRANSIT, SEPTA, MARC, & VRE


The creation of 900,000 jobs over 15 years
2 billion fewer car trips between DC & Boston
Improved trip times throughout the corridor for both Amtrak & commuter services
Projects broken into 5/12/15-year cycle.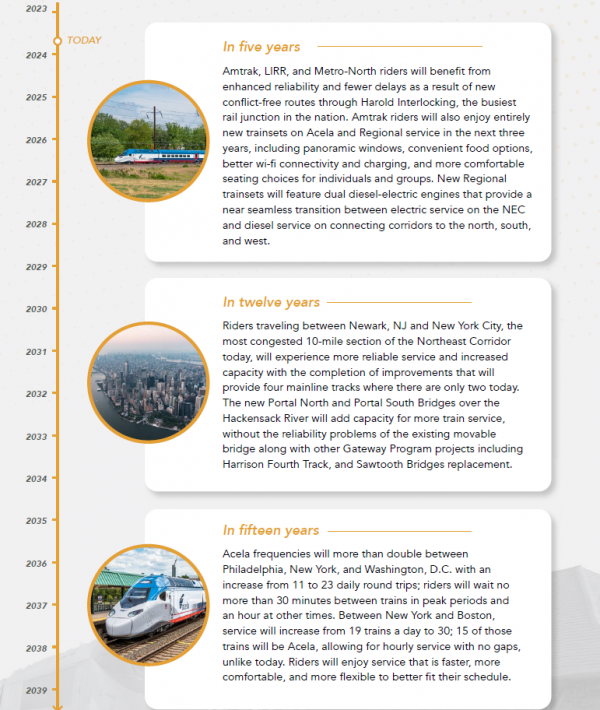 "The COVID Pandemic has been and continues to be the biggest challenge faced by Americans as it has taken a deadly toll on the world and on the world's economies. During COVID Locomotive Engineers at Amtrak and other Passenger and Freight Railroads have embodied the definition of essential workers. This dedication by our members is not new. We applaud the Rail Passenger's Association for recognizing the vital contributions of our members and their hard work moving Americans and freight during the COVID pandemic."
Dennis Pierce, Brotherhood of Locomotive Engineers and Trainmen (BLET) National President
December 21, 2021, on the Association awarding its 2021 Golden Spike Award to the Frontline Amtrak Employees.