Happening Now
Amtrak Eyes Restoring 63 More Cars To Active Fleet
by Rail Passengers Staff
Amtrak says it's chipping away at the backlog of passenger cars laid up at its shops, and told the Association on Friday that 63 more cars would be restored to the active fleet over the course of Fiscal 2024 – which starts on October 1.
Larry Chestler, the executive who heads Amtrak's long-distance business unit, told Rail Passengers President & CEO Jim Mathews on Friday that the FY24 plan would include bringing 48 cars back out of long-term storage and the overhaul backlog, plus another 15 cars restored from "wreck" status – and 12 of those 15 wrecks are sorely needed Superliners.
The work actually began earlier this year as cars began to trickle back out to the fleet. The Capitol Limited already has additional Sleeper car space available for booking on the Amtrak website, and the Capitol – which has suffered through a single passenger coach and a single Sleeper during the summer travel season – should get that second Sleeper back this Fall. Additional coaches could follow in the Winter.
Overall, 23 of the 63 cars being restored in Fiscal 2024 are Superliners. There are nine Transition Sleepers and five Sightseer lounges in the mix to be restored, and Chestler said that many of the FY24 restoration cars should be available for next summer's heavy travel period.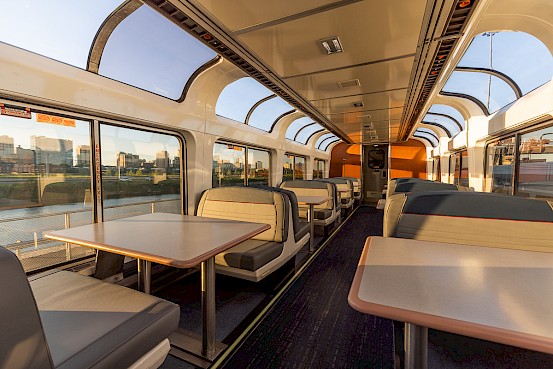 Rounding out the restorations are eight Viewliner I Sleepers and 18 Horizon Coach cars. Amtrak is using more Horizon cars than originally expected as problems with the newer Venture cars on the Midwest services created unexpected delays.
Meanwhile, the Superliner refresh is going well and refreshed Superliner cars are continuing to make their way out into the active fleet. Superliner coaches in the refresh program should be finished by the end of this calendar year, and most of the remaining Superliner refresh program should wrap up throughout Fiscal 2024.
(The most recent five-year equipment plan, which is based on Fiscal 2021 inventory figures, can be found at this link.)
"We would not be in the position we're in if it weren't for the advocacy of so many of you, over a long period of time, who have believed in passenger rail, and believe that passenger rail should really be a part of America's intermodal transportation system."
Secretary Ray LaHood, U.S. Department of Transportation
2011 Spring Council Meeting