Happening Now
All Aboard Ohio Marks 50 Years and Celebrates Grant Award
July 28, 2023
All Aboard Ohio Marks 50 Years and Celebrates Grant Award
By Stu Nicholson, Executive Director of All Aboard Ohio
Crestline, Ohio was once the crossroads of the Pennsylvania Railroad and hosted trains like the "Broadway Limited". Passenger trains have been gone since the 1970's, but when Mayor Linda Pitt heard Amtrak was reviving passenger rail on the Cleveland-Columbus-Dayton-Cincinnati (3C&D) Corridor, she picked up the phone and began (diplomatically) hounding Amtrak to make Crestline a station stop.
She succeeded and All Aboard Ohio decided to kick off their 50th Anniversary year by bringing its Annual Meeting to Crestline. Close to a hundred attendees gathered to hear updates on Amtrak's expansion plans and what state and local governments were doing to advance those plans.
A total of a dozen corridors have applications pending for Federal Railroad Administration grants: two from the State of Ohio and the remaining four from two of the state's largest Metro Planning Agencies. The expectation is the FRA will likely announce the grant awards sometime this Fall.
The corridors include:
• Cleveland-Columbus-Dayton-Cincinnati (State of Ohio)
• Cleveland-Toledo-Detroit (State of Ohio)
• Chicago-Fort Wayne-Lima-Columbus-Pittsburgh (Mid-Ohio Regional Planning Commission)
• Cleveland-Pittsburgh (Northeast Ohio Areawide Coordinating Agency)
• Cleveland-Erie-Buffalo (Northeast Ohio Areawide Coordinating Agency)
• Cleveland-Sandusky-Toledo-Chicago (Northeast Ohio Areawide Coordinating Agency)
Grant news didn't end there.
All Aboard Ohio has been awarded a $17,000 grant from the Columbus Foundation to commission a detailed, projected economic impact study of the 3C&D Corridor. Using a scenario of 3 trains a day with an upgrade to 6 trains, the aim of the study is to provide state and local leaders with information that shows how investing in passenger rail can bring significant economic and workforce development benefits.
The study should be complete by early Fall.
All Aboard Ohio's 50th Anniversary also had a fitting end to the day. Ohio State Representatives Michael Skindell, Terrance Upchurch and House Speaker Jason Stephens presented a Proclamation to commemorate both AAO's anniversary and its on-going advocacy work.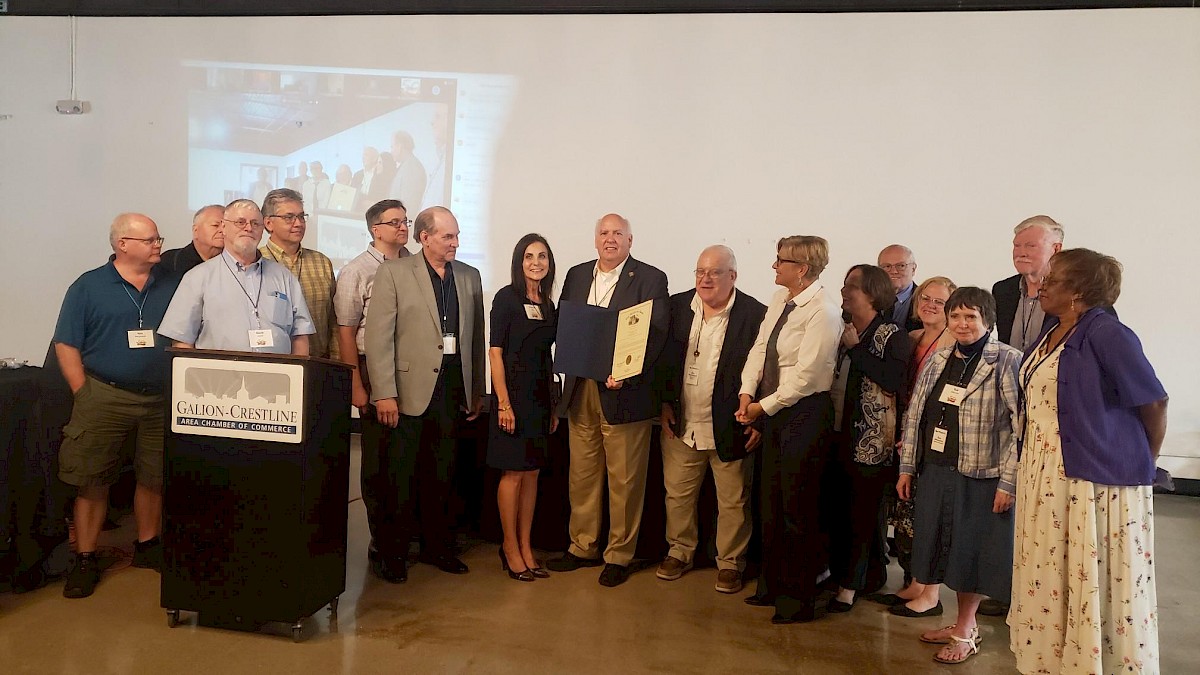 AAO has also delivered testimony supporting full funding for Amtrak in the wake of a 64% cut proposed by the House. Both members as well as public and private sector supporters were urged to call both their House Members and Senators. We were also proud to help draft and sign on to a joint advocates letter to both Houses of Congress urging full funding for Amtrak.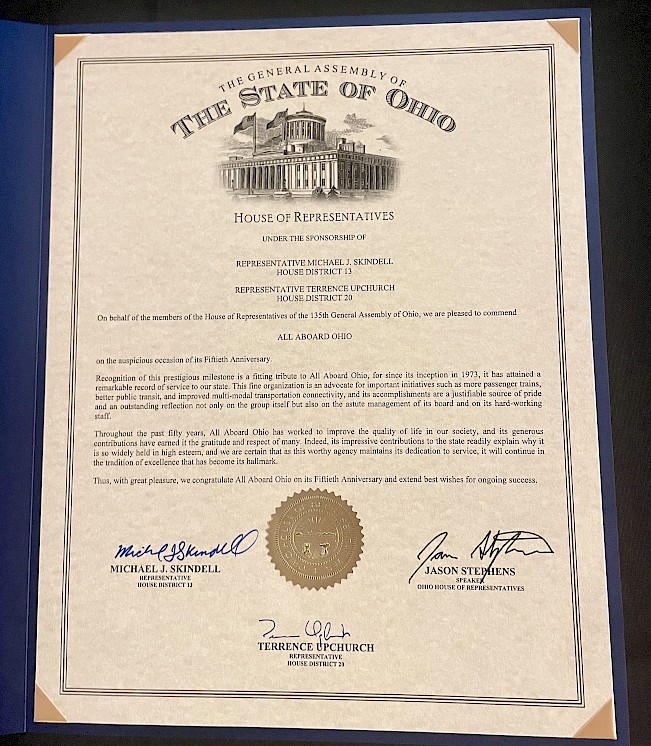 "We would not be in the position we're in if it weren't for the advocacy of so many of you, over a long period of time, who have believed in passenger rail, and believe that passenger rail should really be a part of America's intermodal transportation system."
Secretary Ray LaHood, U.S. Department of Transportation
2011 Spring Council Meeting