Happening Now
Archive -- Fall 2016 Advocacy Symposium & Meeting - Denver, CO
Date
Thursday, October 13, 2016 12:01 AM Sunday, October 16, 2016 11:59 PM
Friday, October 14, 2016 – Sunday, October 16, 2016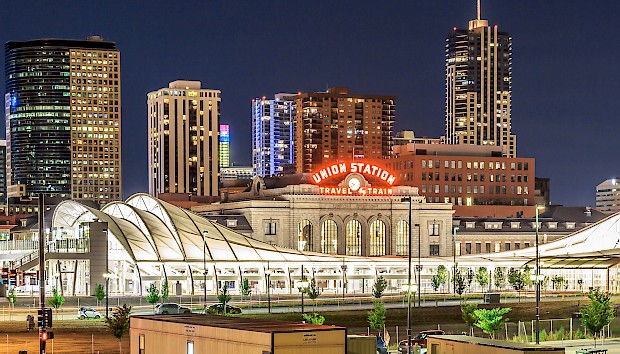 'A Connected America - The Future Has Begun'
Join with rail & transit advocates from across the nation and the Rocky Mountian region for 3 exciting days of information, sharing and networking.
Denver is a beautiful, vibrant and culturally diverse city, which has embraced public transportation as the smart way forward to grow the economy and serve the nearly 3 million residents of the metro region. This year's opening of the new electrified 23-mile Airport Rail Line and 6-mile Westminister Line (along with the 11-mile Wheat Ridge line and Aurora llight rail line opening later this fall), marks a significant step towards the completion of Denver's voter-approved 'FasTracks' transit expansion program - the largest such expansion currently underway in the nation!
---
---
On-Line Event Registration is now CLOSED!
If you wish to attend the Friday Evening Welcome Reception at Denver Union Station, you may register and pay on site at Union Station starting at 6:15pm
If you wish to attend the Saturday Advocacy Symposium, you may regsiter and pay on site at the Embassy Suites Hotel - Silverton Ballroom (2nd Floor) starting at 7:30am on Saturday morning.

---
1420 Stout Street - Denver, Colorado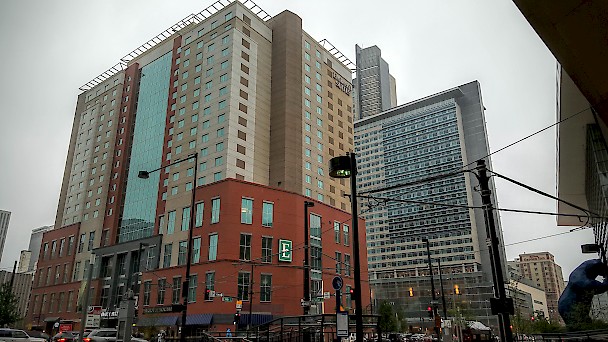 NARP Group Rate Hotel Room Reservations At The Embassy Suites Are Sold-Out...
Regular Rate Rooms At The Embassy Suites Are Available Starting At $179.00 Per Night (AARP/AAA)
Rooms Are Currently Available At These Nearby Alternate Hotels:
The Curtis Hotel By DoubleTree - 2 Blocks - Rates From $183.00 Per Night (AAA-AARP)
Crown Plaza Hotel - 3 Blocks - Rates From $194.00 Per Night (AARP/AAA)
Courtyard By Marriott Downtown - 3 Blocks - Rates From $199.00 Per Night (Weekend Rate)
Holiday Inn Express - 4 Blocks - Rates From $179.00 Per Night (AARP)
Residence Inn By Marriott - 4 Blocks - Rates From $189.00 Per Night (Weekend Rate)
Hampton Inn & Suites Downtown on Sherman Street - 8 Blocks - Rates From $170.00 Per Night (AARP/AAA)
Warwick Hotel - 10 Blocks - Rates From $165 Per Night (AAA)
Check Back For Updated Hotel Information...Revised To 9-23-16
---
Event Agenda - Revised to 9-23-16
Thursday, October 13, 2016
NO Planned General Attendee Events
Friday, October 14, 2016
Tour of Regional Transit & Rail Services - Tour Registration at Embassy Suites 8:00am - 8:30am - Depart Embassy Suites 8:30am - Tour Starting at Union Station 9:00am to 3:00pm (Tour Schedule Will Accomodate Attendees Arriving Into Denver On #5 On Friday Morning If Running Up To 2 Hours Late) NOTE: As Of 9-23-16 Tour Is Sold Out!
4:15 - 5:45pm - NARP Board of Directors Meeting (Open To ALL NARP Members)

6:30pm - 8:30pm - Advocates Welcome Reception - Denver Union Station Main Hall
Saturday, October 15, 2016 – 'A Connected America' Advocacy Symposium Day – 8:00am to 5:00pm
8:30am - 9:00am - Convene Symposium & Welcome
9:00am - 10:00am - General Session Morning Key Note Address - TBA
10:30am - 11:45am - Morning Concurrent Panels
12:00n - 2:00pm - Lunch With A Keynote Speaker From Texas Central Railway
2:00pm - 3:15pm - Afternoon Current Panels
3:30pm - 4:15pm - General Session Panels Report Backs
4:15pm - 4:30pm - General Session Wrap-Up And Adjournment
4:45pm - 6:00pm - NARP Division & Committee Meetings
Saturday Panels Will Include:

Moving Ahead With Shared Passenger/Freight Corridors
Is Transit-Oriented Development The Answer?
Sneak Peek At The Future: U.S. Passenger Rail In 2025 And Beyond
Solving the Infrastructure Conundrum: The $300+Billion Elephant In The Room
Colorado Regional Challenges And Opportunities
Fulfilling High-Speed Rail's Promise
NARP Membership Is Not Required (But Strongly Encouraged) To Participate In Saturday's Exciting Events
Special Discounted Student Registration Fees Are Being Offered
Sunday, October 16, 2016 – NARP Membership & Council Business Sessions - 8:00am to 2:00pm (Concluding After Lunch)
8:30am - 11:30am - NARP Council of Representatives Business Session
12:00n - 1:45pm - Lunch With Keynote Address By Gary DeFrange, CEO - Winter Park Resorts
1:45pm - 2:00pm - Meeting Wrap-Up And Adjournment
Monday, October 17, 2016
Remaining Attendee Departures
Check Back For More Information And Details On The Exciting Line-Up Of Speakers And Presentations...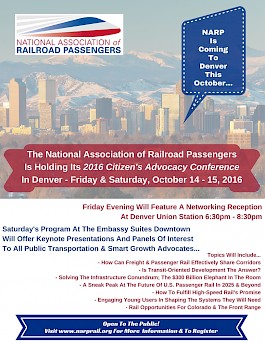 Printable Event Flyer
"The COVID Pandemic has been and continues to be the biggest challenge faced by Americans as it has taken a deadly toll on the world and on the world's economies. During COVID Locomotive Engineers at Amtrak and other Passenger and Freight Railroads have embodied the definition of essential workers. This dedication by our members is not new. We applaud the Rail Passenger's Association for recognizing the vital contributions of our members and their hard work moving Americans and freight during the COVID pandemic."
Dennis Pierce, Brotherhood of Locomotive Engineers and Trainmen (BLET) National President
December 21, 2021, on the Association awarding its 2021 Golden Spike Award to the Frontline Amtrak Employees.