Happening Now
19th Annual Southwestern Rail Conference
Date
Monday, April 3, 2023 9:00 AM Tuesday, April 4, 2023 5:00 PM
Location
Hurst Conference Center 1601 Campus Dr Hurst TX 76054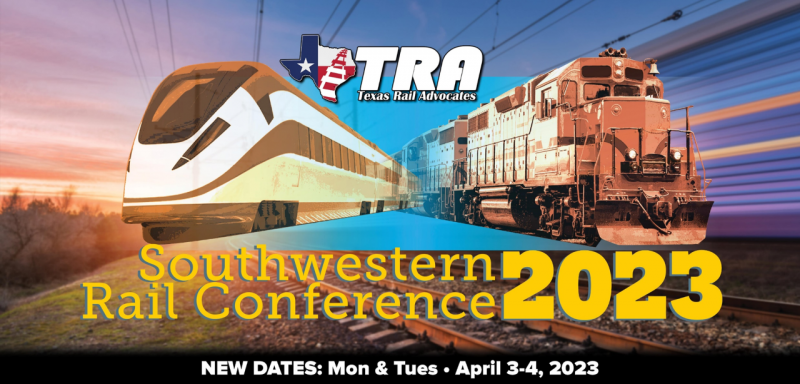 The
19th Annual Southwestern Rail Conference
will be held April 3-4 at the Hurst Conference Center in the Dallas-Fort Worth Metroplex.
You'll hear presentations from
Rail Passengers Association President/CEO Jim Mathews
, from the Surface Transportation Board, Texas Department of Transportation, Southern Rail Commission, Union Pacific Railroad, Texas A&M Transportation Institute and more.
Rail Passengers Association members can save $130 off this premier two-day passenger and freight rail conference during the month of February with a special code. Full registration and meals, normally $329 is discounted to $199 for Rail Passengers members in good standing during February only.
To register use this link:
https://www.texasrailadvocates.org/events/2023-southwestern-rail-conference/
, click register and follow these steps:
Click Register for the SW Conference
Complete all fields on the registration page
Choose April 3 &4, full conference and meals
Don't panic when the full registration of $329 pops up. Type RPA into the field labeled Registration Code (optional) and press enter
Your registration as a member of Rail Passengers Association will revert to $199
Complete your payment and you will receive confirmation
"The Rail Passenger Association's recognition of the essential work done by SMART-TD members aboard Amtrak during this difficult period is appreciated. The Golden Spike Award serves as a testament to the compassion and dedication our conductors, assistant conductors and other workers exhibit constantly through times both ordinary and extraordinary."
Jeremy Ferguson, SMART-TD President
December 21, 2021, on the Association awarding its 2021 Golden Spike Award to the Frontline Amtrak Employees.