Get Involved
Featured Campaigns

Day on The Hill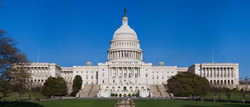 Every April the national NARP Council of Representatives, along with many regualar NARP members who elect to participate, congregate in Washington D.C. to meet with our representatives and senators, and to press them to give Americans the passenger rail system they deserve. The day culminates with a reception attended by members of Congress, along with our industry partners.
Action Alerts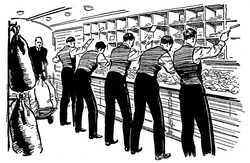 We keep our fingers on the pulse of transportation legislation here in Washington D.C., and know when decision makers have the best or worst intentions for our passenger trains. When you sign up for Action Alerts, we'll reach out when big decisions are pipeline that might otherwise reside in obscurity. We then make it easy for you to send letters and make phone calls to your representatives, and push them to support our passenger trains. With our system, you can usually do so in less than a few minutes!
All Politics [and Transportation] is Local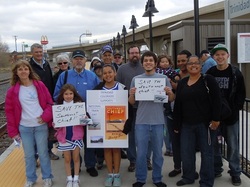 Be active in your area! Check out our list of regional partners. If you are a member, you'll have access to our directory of local council members, who keep apprised of transit issues in your region, and usually have developed relationships with local mayors and politicians.
Volunteer, Intern, Spread the Word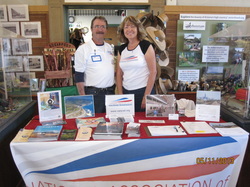 National Train Day is celebrated on May 10th of every year in train stations around the country. Consider tabling for NARP at your local event: it is the single largest opportunity to reach out to hundreds of families and would be train riders about the current system -- and also to dispel myths, offer facts, and to generally explain the limitations of the current system, and what can be done about it.

If you are in the Mid-Atlantic region, consider volunteering with us on a regular basis. NARP also offers seasonal internships for students.

Many other events can engender support for the cause. The appeal can truly be bi-partisan, as mobility is in everyone's interest. What other single cause can boast to incur impressive amounts of economic development simultaneously with ecological benefits while generally improving quality of life for the populations served by each project? Some of our members have arranged for talks within other membership organizations such as Lion's and Rotary Clubs. Others attend festivals and parades thrown for a host of reasons to get the word out. The venues can be as diverse as political conventions to model train shows. You can help recruit associate members with our print out sign up sheets. Know that, as a member, we can offer support materials such as sending bulk quantities of NARP News, and our membership brochures.
Support the only active organized voice for passenger train users on Capitol Hill! Help facilitate everything you see above, and allow us to produce the informative arguments to defend these essential services!
American infrastructure is reaching a crisis point. Your additional support will ensure the improvement and expansion of a national train network.
Signing up for NARP's Monthly Giving is a great way to put more of your dollars towards getting America's passenger train system on track.
Be the strongest voice for the American Passenger by joining the Silver Rail Society. This prestigious group of rail patrons is what drives American passenger rail progress.
Looked through your portfolio lately? Give a gift of stock to NARP and support our effort to work toward creating a modern, customer-focused national passenger train network that provides a travel choice Americans want.
Have an old car, RV, motorcycle, boat, motor home, ATV, and even jet ski taking up space in your driveway or garage? Donate it to NARP!
Have you thought about your estate plan lately? Heritage Circle members believe in maintaining a legacy of passenger rail advocacy by including NARP in their estate plans. Click below for more info.